Employability Award Application Guide
Up until this point your reflections in StudentHub would have helped you to identify what key capabilities and strengths you have developed.  With this in mind, the next stage is designed to help you communicate your potential to others.
The application stage is a two-step process involving a written task and an Award interview which are both managed in a system called my ePortfolio.  A video demonstrating how to use this system is available under the Resources section of this website.
What is my ePortfolio?
my ePortfolio is a system that can be used to produce your own professional ePortfolio to assist with showcasing your employability.  
The benefits of using my ePortfolio to apply for the Award include:
showcasing your work in a professional way and communicating your strengths and capabilities,
sharing your ePortfolio and/or samples of work with potential employers,
creating a personal brand and online identity; and
receiving constructive feedback about your application and interview performance.
This guide will assist you in completing the written ePortfolio application by outlining what needs to be addressed. A separate guide is available for the Employability Award Interview.
my ePortfolio access
To setup your initial access to the Employability Award ePortfolio follow the below steps:
Log into your Learn.UQ Welcome Page and click on the My ePortfolio account setup course link in the left-hand panel.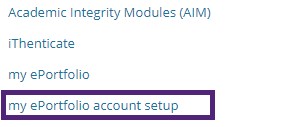 Click the Submit button.
Click the OK button.
Click on the UQ Employability Award account setup link at the bottom of the page.
Accept the user agreement.
Note: Your account will need to be reviewed every 12 months by repeating the above steps.
Once the initial setup is complete, you can access your Employability Award ePortfolio at any time from your Blackboard page by selecting the my ePortfolio course link.
---
Preparing your application
For the written task, you will create an online ePortfolio to showcase yourself as an emerging professional.
The purpose of this task is to demonstrate how well you can communicate your competencies, experience and knowledge to others (i.e. your potential). It should therefore be a purposefully selected subset of your experiences that demonstrates who you are and what you can do.
To guide you, a Table of Contents (TOC) exists within the Employability Award ePortfolio.  The TOC features the following sections:
About Me 
Resume
Letter of Application
Supporting Documentation
Applicants will be required to address each section.
1. About Me
In this section, submit a video (one minute maximum) to promote yourself and explain why you would be a great addition to a workplace as a result of the experience you've gained.
Consider including the following information:
Introduce 1-2 of your experiences from the Employability Award and outline the main skills and knowledge you developed.
What sort of job do you want? Why is it the career for you?
What attributes and attitudes do you have that would be an asset to an employer?
What parting words could you say to leave a positive impression?
The video can be filmed on a phone, however you should ensure you are achieving a professional presence.
When filming your video, ensure you do so in a quiet location with adequate lighting and consider wearing professional attire
---
When should I submit my ePortfolio?
You should only submit your ePortfolio to the assessor in your final semester at UQ.  The application guide is subject to change so we highly recommend you follow the online instructions that are in place during your final semester at UQ.
Important dates
Applications to receive the Award must be submitted before 11:59pm on the following dates in your final semester of study.
29 April for Semester 1 Graduations
30 September for Semester 2 or Summer Semester graduations.
Please note: These are firm dates and no extensions will be granted.  
ePortfolio techincal support
For any technical advice related to the use of my ePortfolio or retaining access after graduation, please contact the Library via the AskUs page.
Alternatively, you can access the Library's My ePortfolio information guides and videos.
You can book in for an Award Consultation via StudentHub should you have any questions regarding your eligibility to apply and the application process.