Harvard Summer School: In Person
The Harvard Summer School experience offers courses taught by Harvard professors and visiting scholars during the summer months in Boston, Massachusetts.  
With over 400 courses to choose from, in a variety of flexible formats to fit your schedule, we know that you'll find the right course for you at Harvard Summer School.
Fields of study
Anthropology
Biology
Business
Chemistry
Computer Science
Creative Writing
Dramatic Arts
Economics
Engineering
English Literature
Environmental Studies
Film
Gender Studies
History and Ancient History
Humanities
Information Technology
Journalism
Languages
Leadership and Management
Legal Studies
Mathematics
Philosophy
Psychology
Physics
Sociology
Statistics
Studies of Religion
Visual Arts
More information regarding specific courses available can be found on the host university website. UQ students attending in-person can only undertake courses offered in On Campus mode in order to meet visa requirements. 
Postgraduate students should be aware that if you are wanting to take the course for credit, you will need to ensure you have registered for the appropriate 'credit status' with Harvard Summer School. 
*Applicants are advised to submit 2-3 courses on their application for credit form for faculty assessment credit in case of course cancellation. 
Credit equivalent
4 Credits = 2 UQ Units. Maximum of 4 UQ Units upon successful completion of 8 Credits (pending UQ faculty approval).
Students wishing to receive credit for any Harvard Summer School course will need to provide a full course syllabus in their Global Experiences application. If a current course syllabus is not available, please provide a copy of the most recent syllabus (from Summer School 2022) or contact Harvard Summer School directly. Your Global Experiences application will not be assessed without a full course syllabus. 
Visa Information
It is your responsibility to ensure you have the correct visa for the country where you will be studying. As the Global Experiences team is not a visa-issuing authority we cannot provide visa advice.
Please review the host university webpage for visa and immigration information.
Eligibility and application
All applicants must meet the UQ short-term experience eligibility criteria and the Harvard entry requirements. Non-native speakers of English should note the additional English language proficiency requirements prior to applying.  
The 7-week session and the 3-week Session 2 impacts on UQ Semester 2 dates. UQ students must meet the additional special conditions for programs that impact on teaching dates. 
If you are intending to undertake your experience for-credit, it is strongly recommended that you submit your application to IGET at least 4 weeks before applying to the host to allow sufficient time for Faculty to complete the credit assessment. Please note however that it is your responsibility to meet the host application deadline.  
*Please note that Harvard Summer School registration begins on 01 March 2023. 
Program Dates: 
Harvard Summer school offer courses in three sessions. UQ students are able to complete courses within the following sessions only: 
3-week Session 1
Start Date: 20 June 2023
End Date: 6 July 2023
Credit: For-credit or not-for-credit
3-week Session 2*
Start Date: 10 July 2023
End Date: 27 July 2023
Credit: For-credit only
7-week Session*
Start Date: 20 June 2023
End Date: 4 August 2023
Credit: For-credit only
Students who enrol in the Seven Week Session, must undertake 8 Units in order to meet visa requirements. 
* dates impact on UQ semester 2
Costs
The participation mode of this experience is Study Abroad. Program tuition is approximately $4,900 AUD per 4 Harvard credit course. More information regarding program fees can be found on the host university website.
Accommodation
Accommodation can be arranged as part of the program for an additional cost. For more information regarding accommodation, please see the host university website. 
Funding
Internships and Global Experiences Grants
When you submit your application for an experience, you are automatically considered for funding that is relevant to your nominated experience. Please refer to the Short-Term Experiences Funding  page for details. 
BEL Faculty Credit Assessment
Credit must be confirmed with BEL Faculty to check suitability for your program requirements. You should consult with the International Mobility Coordinator prior to submitting an application. The credit precedents information on this site is provided as a guide only. Please see Credit Precedents Disclaimer for further details.
| | |
| --- | --- |
| Harvard Summer School | BEL Faculty Assessment |
| Postgraduate |   |
| MGMT S-4150 Leadership (3-week session 1) | MGTS7810 Leading People and Teams (MBA) |
| MGMT S-4158 Leadership Perspective (3-week session 2) | MGTS7810 Leading People and Teams (MBA) |
Joanna - 2022
"Learning what I want to learn made me super excited to go to class and rejuvenated the joy I get from learning. I met amazing people from all around the world like a Sri Lankan national swimmer and author, a software engineer at JP Morgan, fellow UQ students, and some very knowledgeable professors. I loved travelling around different cities and seeing how different they were from one another, as well as going to museums and finding a new interest in antiques."
Andrew - 2022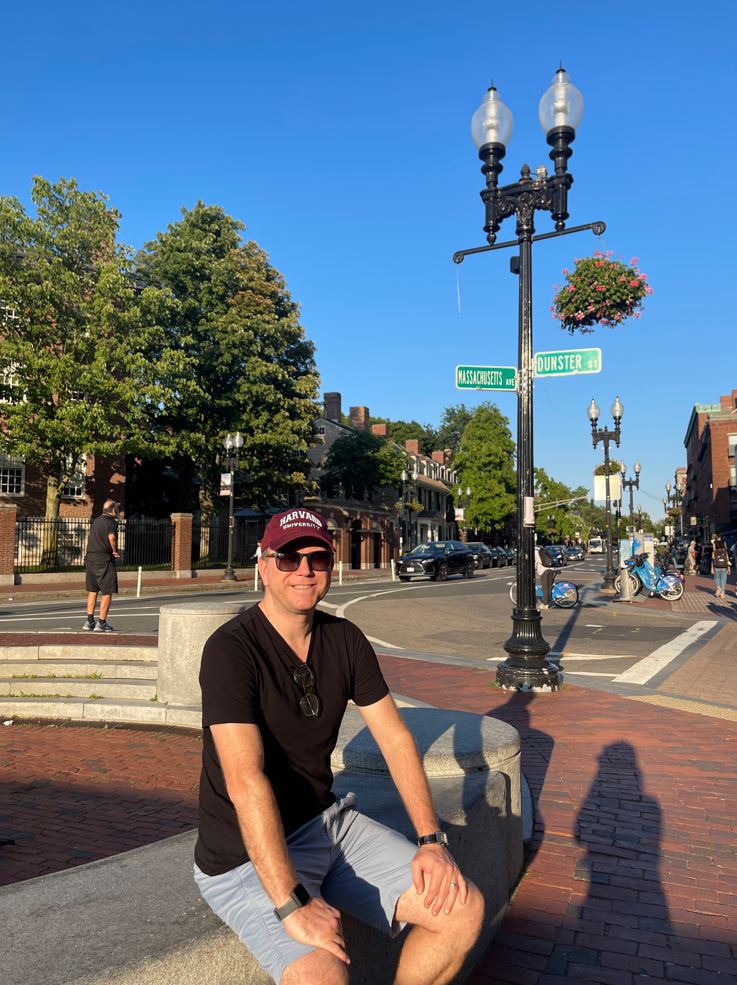 "The course allowed me to explore innovation in a broad sense. I was able to hear from people across a range of different industries and markets, rather than the innovation discussions I have been exposed to previously, which were only within my own industry."
Key Dates
Application Deadlines
UQ: 21 April 2023
Host: 1 May 2023
Program Dates
See the 'Dates' tab for more information on program dates. 
Fast Facts
Type: Study
Mode: Study abroad
Location: Boston, USA
Credit: For-credit and not-for-credit
Cohort: Undergraduate, Postgraduate (BEL) and MBA
OS-HELP Loan
If you participate in a short-term program you may also be eligible to submit an application for an OS-HELP loan if your program is for-credit and you are enrolled as a Commonwealth supported student. 
Application Deadlines
15 January for overseas study commencing March to August
15 March for overseas study commencing May to October
15 June for overseas study commencing August to January
15 September for overseas study commencing November to April
Refer to the funding page for more information on eligibility requirements and loan amounts. 
Global Experiences Information Sessions
Students are encouraged to register and attend an information session to receive more details on the short-term application process, eligibility criteria, funding etc.