CIS Australia July in Barcelona: Session Two
We are very pleased to announce that our global experiences including Semester 2, 2022 Exchange and Winter 2022 Experiences will recommence on a country-by-country basis. We understand how important these opportunities are for you, and our teams have been working diligently behind the scenes to ensure these can be offered safely as we continue to monitor the evolution of the COVID-19 pandemic and other global safety considerations. 
Make sure to research your travel destination(s) and prepare accordingly, by reviewing all the FAQs.
The CIS Australia July in Barcelona: Session Two program offers Spanish language classes for speakers of all levels (beginner to advanced).
This winter abroad program is perfect for absolutely anyone with Spanish language classes are offered for speakers of all levels (beginner to advanced). Lessons are tailored to meet individual needs and most electives are taught in English. So if you're after a true immersion experience you'll love this program – it will be your best 'European summer' of a lifetime!
Fields of study
Anthropology
Architecture and Design
Art history
Development
Earth and geographical sciences
Environmental studies
Exercise science
Film TV and media
Gender studies
Humanities and social sciences
International relations
Leadership and management
Political Science
Sciences
Sociology
Spanish language
Writing
You can contact the Global Experiences team for course syllabi or CIS Austraila for specific information on your program of interest. Find more information regarding specific courses on the CIS Australia website.
Credit Equivalent
3 credits = 2 UQ Units. Maximum of 4 UQ Units upon successful completion of 6 credits (pending UQ faculty approval).
Visa Information
It is your responsibility to ensure you have the correct visa for the country where you will be studying. As the Global Experiences team is not a visa-issuing authority we cannot provide visa advice.
Contact CIS Australia for visa and immigration information.
Eligibility and application
All applicants must meet the standard UQ Student Eligibility Criteria and any additional eligibility criteria set by CIS Australia. Students are required to at least have a 4.5 GPA to meet CIS' entry requirements.
This program impacts on UQ semester 2, 2022 dates, UQ students must meet the additional special conditions for programs that impact on teaching dates.
CIS Australia programs are highly competitive and fill up fast so be sure to get your application in as early as possible.
Costs
The program fee is approximately $7,600 AUD. More information regarding program fees can be found on the CIS Australia website.
Funding
Widening Participation Grant
Applicants may also be eligible for UQ-specific funding. Applicants will be notified by mid-May if they are eligible for travel grants and scholarships awarded by the Global Experiences Team. Please do not rely on this funding to support your global experience.
Accommodation
Accommodation is included in the program cost. For more information regarding accommodation, please see the CIS Australia website.
Tiana - 2017
Studying abroad is definitely something I would recommend to anyone! I chose to study in Spain because I wanted to experience a culture completely different to my own. Whilst I was there I learnt so much not only from my course but through the people I interacted with both students and locals.
Read more of Tiana's story here. 
Mattea - 2017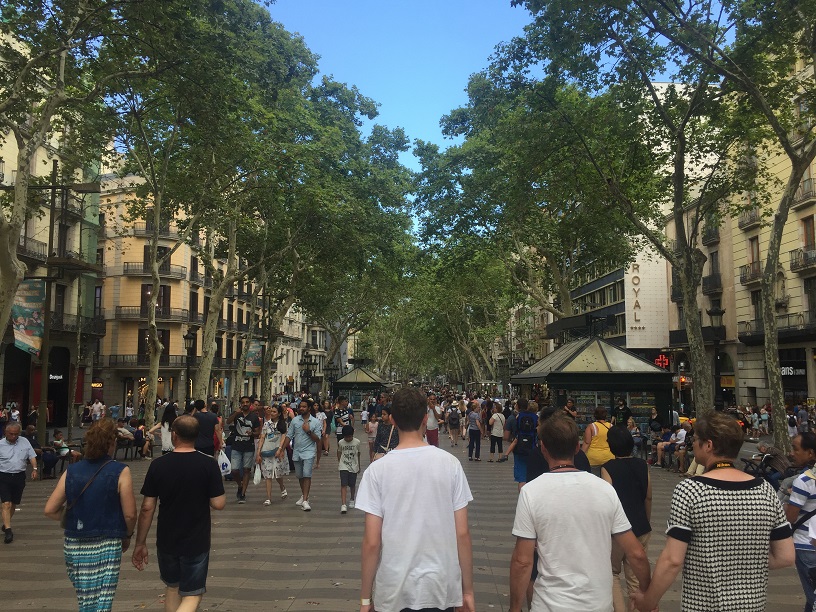 It was an incredible experience and I learnt numerous valuable lessons about organisation and communication over the course of the program. I loved meeting students from other countries and getting to know what their lives were like, given that we were all doing similar things.
Read more of Mattea's story here. 
Key Dates
Application Deadlines
UQ: Winter 2022 Applications Closed
Host: 1 May 2022
Program Dates
Start: 30 June 2022
End: 29 July 2022
Fast Facts
Type: Study
Mode: Study abroad
Location: Barcelona, Spain (In-person)
Credit: For-credit only
Cohort: Undergraduate
OS-HELP Loan
If you participate in a short-term program you may also be eligible to submit an application for an OS-HELP loan if your program is for-credit and you are enrolled as a Commonwealth supported student. 
Application Deadlines
15 January for overseas study commencing March to August
15 March for overseas study commencing May to October
15 June for overseas study commencing August to January
15 September for overseas study commencing November to April
Refer to the funding page for more information on eligibility requirements and loan amounts. 
Global Experiences Information Sessions
Students are encouraged to register and attend an information session to receive more details on the short-term application process, eligibility criteria, funding etc.