Academic Experience
I took 8 classes over the semester, 2 of which were intensive 3-day courses. The class sizes are a lot smaller and like UQ, they encourage collaboration amongst your peers during the 3-hour lessons.  There are a wide range of subjects on offer by the business school. I used my electives which gave me more choice and flexibility, allowing me to have longer weekends for travel. I would recommend taking a course called 'French Civilisation' which details the history of France and gives facts on famous monuments. The courses integrate with the French students and are always a great way to meet many people from all over the world. Classes are compulsory so be careful not to miss any without proof.
Costs
I lived in Les Linandes which is a part of the ALEGESSEC Residences, provided by ESSEC. I would recommend this accommodation as it was the cheapest and only a 20-minute walk to the business school.  Grocery shopping was more expensive than I anticipated but I found travelling around Europe cheap because of Flixbus. Overall, I spent around $10,000 on my exchange. I recommend paying for the Navigo card which was around 70 Euros a month on a rechargeable basis and is similar to a Go Card. I found it was definitely worth the cost because it allowed me to take the train up to Paris quite often with ease.
Professional Development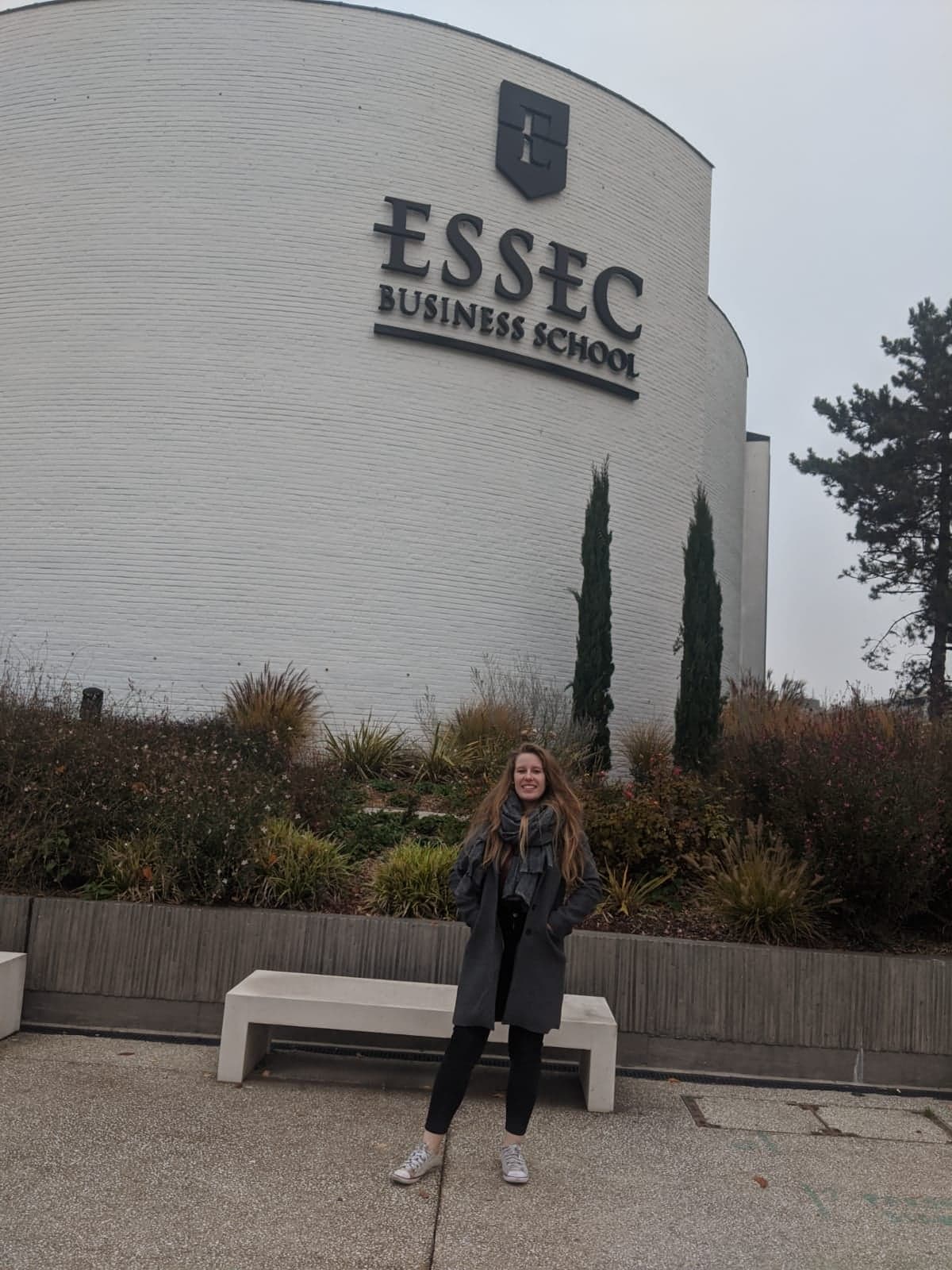 ESSEC Business School is a Grand Ecole, which is a highly respected institution in Europe. The reputation of the Business School can definitely improve upon your employability so it's a great opportunity. The UQ Global Experiences program can also be credited towards the UQ Employability Award which I recommend all students to participate in for the development of valuable skills. It allowed me to develop my French speaking skills which I can continue working on at the Institute of Modern Languages (IML) at UQ. Completing a course through this program can also contribute to your Employability Award. If you're nervous about your knowledge of the French language, IML also have intensive classes you can take.
Highlights
My favourite experience was attending a football game, Moldova vs France. It was great way to feel a part of the community and be immersed in the experience. The travel opportunities were also a great highlight for me, it was very easy to travel around Europe. Travelling around France on weekend trips allowed me to test my knowledge of the French language and see beautiful sights like Mont-Saint-Michele, a commune in the North of France. Ice-skating in Le Grand Palais at Christmas was also a great experience. Paris is always hosting many great events just like that, so I recommend checking Facebook and event pages often.
Tips
1. Use Flixbus: It's a fantastic and cheap way to move around Europe.
2. Go to Foys: The bar on campus is good for socialising with French and exchange students.
3. Join the buddy program: You can be paired with a French student who you can turn to for help and can provide advice. It's a great way to integrate more into the ESSEC community!
4. Food: I highly recommend going to either Boullion Pigalle or Boullion Julien for restaurant food. It's cheap and authentic French food.
5. Put yourself out of your comfort zone and meet people.
6. Take every opportunity available to you!