Motivation
I wanted to better my Japanese, have the opportunity to meet people from other countries, increase my independence and adaptability through the experience of travelling to and living alone in a foreign country, and be able to see parts of Japan through daily life that I would not usually be able to see as a tourist.
Personal development
I made good friends with other exchange students, and often explored places with them. One of our main hobbies was exploring shrines and temples and collecting stamps (known as goshuin) from them, which is popular to do in Japan. This hobby also gave us opportunities to talk to the workers at the shrines and temples, who were often also interested to hold conversations with us, and we were able to both improve our Japanese conversational skills and learn more about the places we visited. The experience of living and studying in Japan as a whole also greatly improved my Japanese compared to what it had been before I went. I also learned to be more willing to go out and explore or do things on my own during times my friends weren't available.
Academic development
The Japanese classes at Ritsumeikan were very demanding. I was in the Level 5 Japanese classes in the Intensive Japanese Language (IJL) track, which were conducted entirely in Japanese. We had class every day and we moved at a fast pace in order to complete our entire textbook in one term. We also had homework to do outside of class most days, leading to many late nights. While it was tough to get through, I found these classes did improve my Japanese much more than any of the classes I'd taken in Australia had, and I felt much more fluent afterwards. I actually found the school system much like a high school in Australia—we had set periods for classes with a lunch break, and even a school bell. We also had all of our classes in the IJL track in the same class group, meaning we were usually spending several hours a day every day with our classmates. I liked this as it did make us feel closer to each other than I would with any classmates in tutorials at UQ.
Outside of the IJL classes, I also took a couple of classes in English, as well as a couple of traditional arts classes. The traditional arts classes, of which I took shamisen and calligraphy, were by far the highlight of my school experience at Ritsumeikan. They were conducted in Japanese, and gave me the opportunity to learn both language and culture that I would not have been able to learn in Australia.
Professional development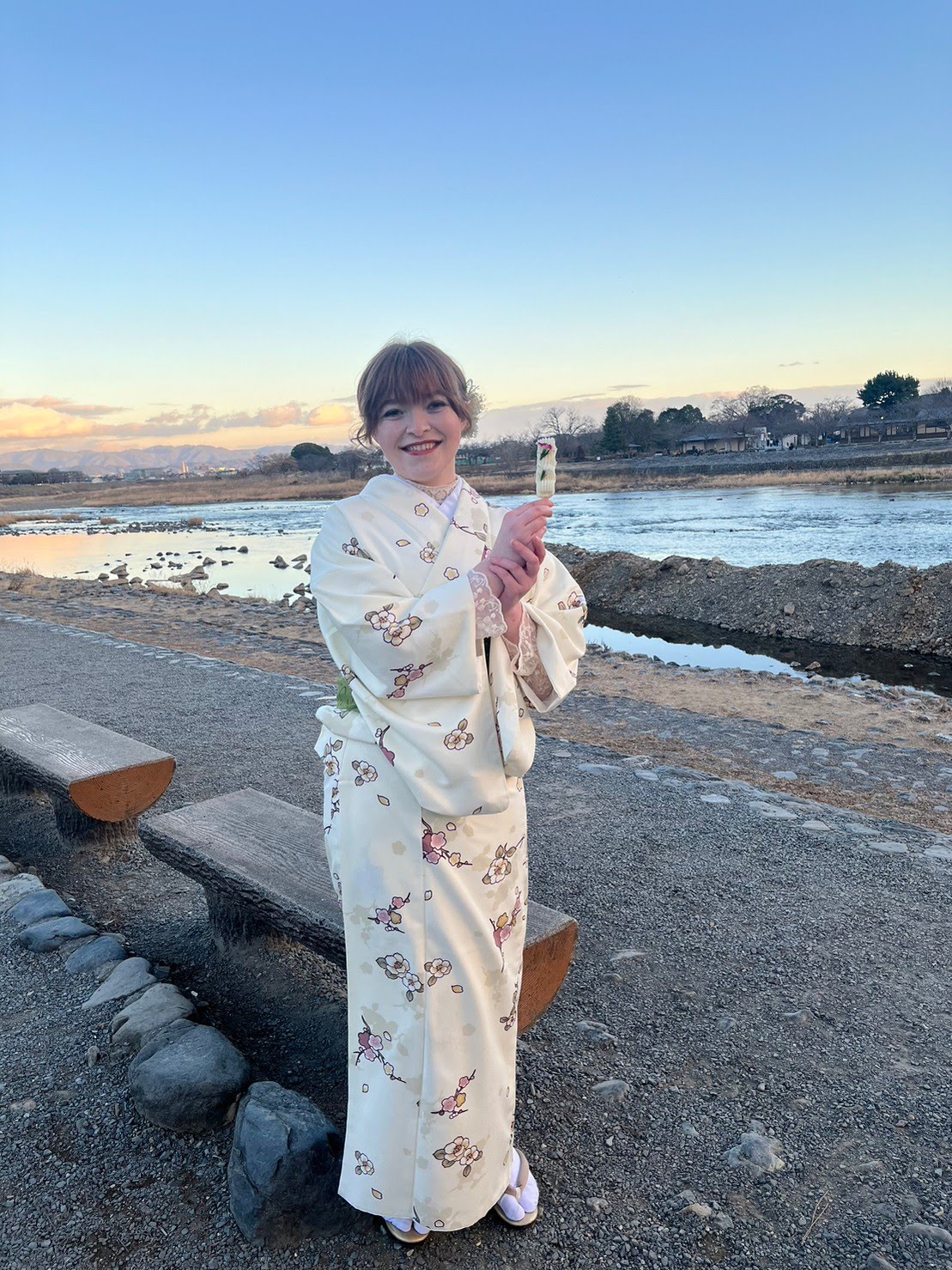 I would like to work as a Japanese-English translator in the future, and the classes at Ritsumeikan greatly improved my fluency which would be required for that work.
Costs
I spent approximately $8,700. This went towards plane tickets and transport to and from the airport (approx. $1650), rent (approx. $3800), food (approx. $1000), transport to and from classes, extra fees for the traditional arts classes, school supplies, clothes needed for the colder climate, as well as experiences inside Japan. I did not use any particular budgeting techniques—I have never been one to spend excessively, and simply went by the general rules of buying what I need and searching for the cheapest option/buying second-hand where possible.
Funding
The funding I received covered all of the above as listed in the 'Costs' section. I do not currently work, as I find stretching myself between work and study very difficult, so this funding provided me with the opportunity to study abroad. The amount of funding I received was high, and as such also enabled me to fully enjoy my experience without stressing about money.
Accommodation
I found out about accommodation options through Ritsumeikan's website, and stayed in Ritsumeikan University's International House Tokiwa. It is a small off-campus dorm aimed at international students. I had a private room to myself, with a bed, desk, aircon/heating unit, ample cupboard storage and a mini-fridge (which I paid slightly extra for). Wi-Fi is also available, though connection strength depends on your location in the building. Kitchens, toilets and showers were all shared. There is also a shared lounge in the basement. The building and furnishings are old and somewhat worn, however still functioned well and I never ran into any particular inconveniences because of its age. Residents are expected to clean their own rooms, as well as take turns cleaning the shared kitchens. The pros of I-House Tokiwa were definitely its small size, and the kindness of the managers and other residents. The small size (approx. 35 students total) meant that all the residents were able to get to know and become close with each other easily, and I made my closest friends in Japan with other residents of the dorm. The smaller size also meant a more relaxed atmosphere, with less rigid timetabling of cleaning etc, and it meant that the student managers were less busy and free to help residents with procedures such as filling in forms at the local ward office, or applying for insurances etc, or any other difficulties they may have in daily life. The cons were the shared amenities, in particular the kitchens and showers. The kitchens were very small (fitting usually max 2-3 people), and during busy times I would sometimes have to wait a long time to be able to cook and eat. The showers were communal (with no stalls), which could occasionally be awkward.
Highlight
The highlight of my experience was getting to explore the more hidden parts of Japan with my friends. As I said above, we enjoyed collecting goshuin (stamps) and often sought out quieter shrines and temples to visit and collect from. I also particularly enjoyed my shamisen class, in which I was able to learn some of Japan's traditional performing art culture.
Advice/Top tips
Don't hold back! I am usually an introverted and often anxious sort of person, but I put the effort in to make friends and go out to explore as much as possible, and I think I got the most out of the experience because of that. Also don't be afraid to go out or try things on your own! While I often had fun going out with friends, I also had times when others were too busy with school or other things during which I went out alone. I still had fun during these times, and I think being comfortable and confident to spend time with yourself can be a valuable skill.
Despite all this though, also don't be afraid to take breaks. Classes and life in a foreign country can be taxing, and it's better to take a quiet day here and there than face burnout.