Motivation
Through the exploration of my family tree, I learnt that my great-granddad (x6) was Duncan Ban Macintyre, the famed Scottish poet of the 18th Century. In 2018, I was lucky enough to visit his grave in Greyfriars Kirkyard and learn more about my heritage at the National Museum of Scotland. Additionally, two years ago, my essay on David Hume's argument against the supernatural was published in UQ's Footnote Journal. Furthermore, I learnt that after settlement in Australia (1820s) until WWII, the men in my family returned to Scotland at age 18 to study at the University of Edinburgh. As you can imagine, an opportunity to study at the same prestigious university as my forefathers was incredibly special to me.
Personal development
Studying abroad was a life-changing experience that helped me develop as an individual. I had the opportunity to learn about Scottish and Gaelic history and culture, meet new people, and challenge myself in ways that I may not have been able to do at home. Studying abroad allowed me to fully immerse myself in a new culture. I had the opportunity to learn about local customs, try new foods, and experience daily life in a different country. Before this trip I was not very interested in football (soccer) and usually dismissed it as an important cultural phenomenon in my previous cultural studies programs that I had studied at UQ on France and Argentina. Amazingly, these two countries made it to the World Cup final which was played during my semester in Edinburgh. I was often going to the pub after class to watch matches and meet new friends from around the world. The incredible timing of this experience allowed me to fully appreciate football and its worldwide cultural impact. Overall, my exchange was a truly enriching and rewarding experience.
Academic development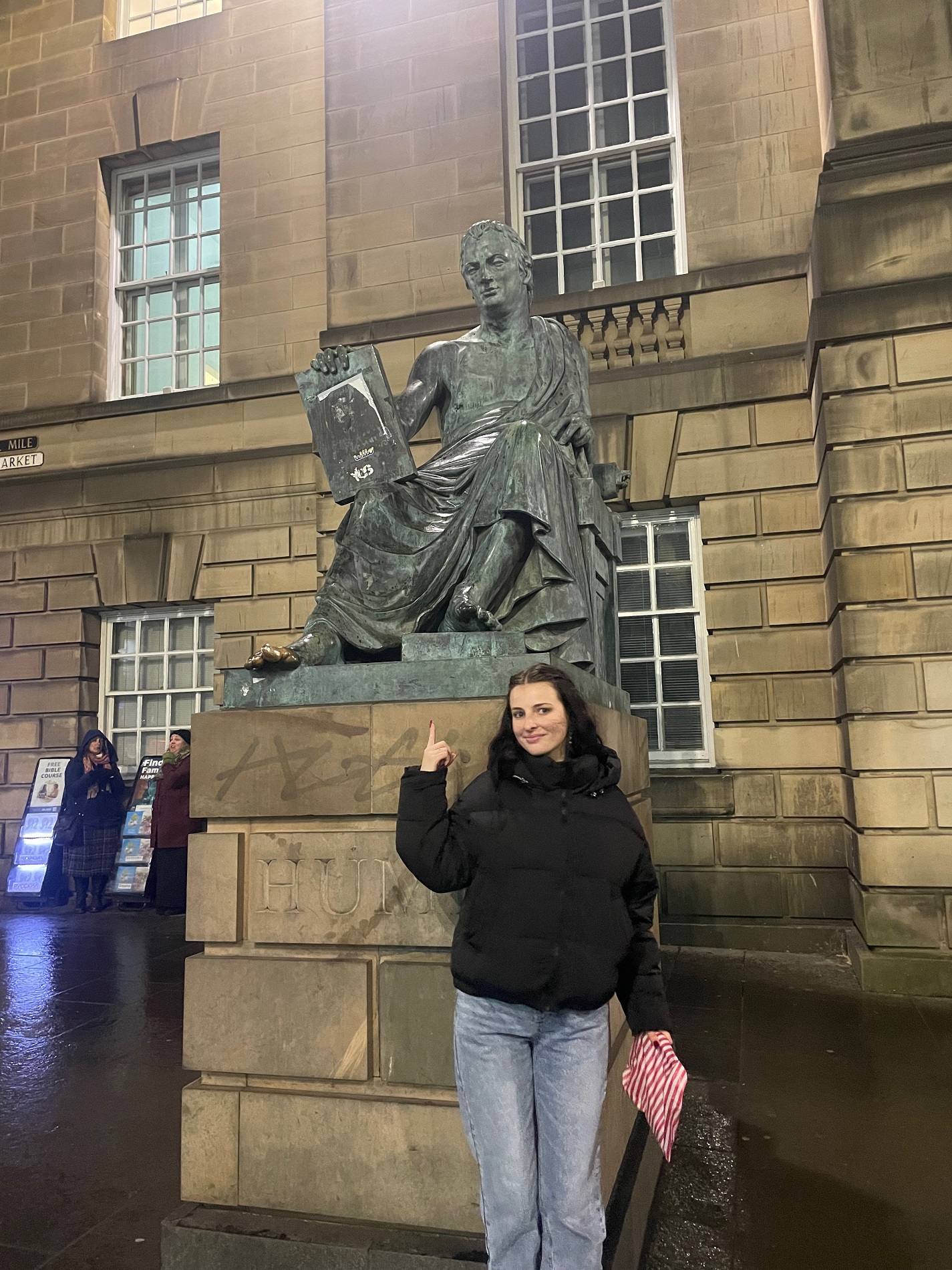 Studying abroad allowed me to experience different teaching styles and approaches to learning. This broadened my horizons and helped me develop new ways of thinking about history as a subject of study. The University of Edinburgh is home to a wide range of academic programs, including many that are not available at UQ. For example, I took a third-year unit called "Carnivals in the Atlantic World" which was taught by an amazing British-Jamacian professor. Her far-reaching knowledge of the history of the Atlantic World, coupled with her personal experience, and her genuine excitement to teach the course translated fantastically into this brilliantly designed course. By far, she is one of the best academics I have met in my studies so far. I was also able to take a course about the themes in Scottish history from the 1560s.  After noticing a general lack of knowledge/accountability on the Scottish involvement in the violent Australian colonial project, I was impassioned to explore Scottish/Australian/Pacific relations in the 19th century. Usually, I would avoid focusing on Australian history in general due to fatigue from my high school studies and a personal discomfort at discovering the horrors that occurred on the lands I live on. However, ironically, my experience in the UK made me aware of how important exploring and exposing Australia's violent history is, no matter how uncomfortable it can be. Furthermore, I took a Medieval history unit whilst studying in one of the oldest universities, in an ancient medieval city. This is the type of historical exposure and immersion you cannot really experience in Australia. In terms of workload, despite not having a job, was quite intense. Perhaps it was because I had put a lot of pressure to do well considering I didn't have a job to take up hours in my day. On paper, the workload does not seem that intense compared to UQ but I felt that I was more stressed while studying in Edinburgh. Furthermore, this stress and study made it difficult to take a break and actually explore Scotland as I had planned to, which was regrettable.
Professional development
I believe that I was able to learn more about myself during this study exchange semester. I had previously lived abroad in Reunion Island for a year with family friends, so I thought that I already had a lot of skills with adaptability, independence, and experiencing a new environment. However, I found that being alone for most of my exchange, and being in a cold and dark environment, was really difficult for me and impacted my ability to function normally. During the exchange, I found it hard to find "my people". While I certainly made friends, we didn't have the connection that I required, thus highlighting my dependence on close friendships for survival. To overcome this, I made sure to facetime my family, friends, and work colleagues back in Australia as much as possible; take vitamin D pills; and focus on getting through the semester. This experience improved my resilience and persistence - skills I know are very important for any workforce. While I loved Edinburgh, I wouldn't say it's a city for me. I was incredibly homesick and was very excited to get on a plane home. Before heading home, I scheduled a quick one-week stop in Paris (a city close to my heart that I have stayed in for long periods of time) and my soul was instantly energised as I found 'my people' again. This reinvigorated my love for travel and cultural immersion and has inspired me to do a quick short-term study in Paris over the July period.
Costs
During my stay in the UK, the country was experiencing a financial crisis with frequent changes in leaders, rising gas and electricity prices thanks to the Ukrainian war, and widespread union protests. I am so grateful that I booked my apartment through the university student accommodation program because living costs like gas, water, and electricity, were included in the rent price. While my friends were freezing in their apartments, trying to conserve energy over the winter, I didn't have to endure that added stress to my studies. For the one semester with a private ensuite and double bed, my room cost about $5000. Which is a lot for 3 months but considering I didn't have to deal with the volatile energy crisis, I think it was worth it. Also, public transport is quite expensive (1.90 pounds for a one-way bus trip) so I would recommend getting a Young Scots Card which gives you free transport on any public service in Scotland. Thankfully, Edinburgh is a very walkable city so its very easy to get around on foot (plus, there is something about being on the ground, taking in the atmosphere and architecture that I adored in Edinburgh!).
Funding
The OS-Help Loan and the UQ Travel Grant were hugely beneficial to my experience! It helped pay for my accommodation and flights which were the two biggest expenses I faced. I would recommend anyone to take advantage of these initiatives for their study abroad experiences.
Accommodation
As I mentioned, I lived in student accommodation with a private ensuite and double bed (features that were very rare to find in student accommodation!). The building was very new and the amenities were fantastic! I stayed in a 10-person flat and we all shared a kitchen. Everyone was absolutely lovely and was from all corners of the world. It was a great way for me to meet new people and socialise. Sometimes, we would go to trivia, bowling, dinner, or watch world cup games together. The only con to this arrangement was that you must have good team work and communication to maintain a nice communal area. As some students found it hard to keep the space clean but we used an App called Flatastic which scheduled chores for each person to do over the semester. It helped us keep people accountable and spread the workload equally among the flatmates.
Highlight
The highlight of my experience was going on a solo phone-free 7-hour hiking trek on Arthur's seat the day after I had submitted my final assignment. It was December and had just snowed so the hike was unique and challenging in all the best ways. I would highly recommend this hike to anyone who visits Edinburgh. Not only do you get to see a beautiful view of the city, but on the other side of the peak, are stunning snow-capped mountains.
Advice/Top tips
I would say to prioritise travelling and exploring Scotland as much as you can. I really wish I took a slight step back from being so invested in my studies and actually tried to travel a bit more. Also, try and see the Aurora lights which are sometimes visible from Arthur's seat in the early hours of the morning!