Academic experience
I studied  at the Humboldt University of Berlin for the summer semester of 2019.
 
I began my studies with an intensive cultural and language immersion for a month. In a small and intimate class environment we would discuss and write about complex issues completely in German, with a particular focus on grammar. I found this experience very challenging and very tiring, but I am also very glad to have done it, and I know that my German has improved because of it. 
 
When other classes began, I officially joined the Institute for European Ethnology where I took part in The Anthropology of Turkey; The Sentient City: Towards an Anthropology of Urban Sensing Practices; and Gender and Capitalism: Feminist Interventions in Economic Anthropology.
 
I also took part in three courses offered specifically for exchange students and centred around the life and history of Berlin. These were a part of the program, Berlin Perspectives. These courses included Image and the City - Perspectives on Berlin; Topographies of Jewish identity in Berlin in the 20th and 21st Centuries; and Urban activism in Berlin.
 
I also took part in an interactive German phonetics course which was a lot of fun, and overall very helpful in improving my spoken German skills.
One of the most challenging aspects of my exchange was getting used to, understanding and adapting to the German academic system. Although I found it very interesting to be immersed into a new academic environment, there are a lot of differences that took a while to wrap my head around. 
Firstly, in Germany, teachers are unable to mark attendance and it is not compulsory to attend any of your classes at all. 
The class structure is different as well. While lectures are available to take, all the classes I enrolled in, were in seminar format. This was a kind of combination between our understanding of lectures and tutorials. The sizes of these classes are highly variable. Usually, the teacher sits down at the level of the students and the class is essentially a group conversation for the allocated time slot. From my experience, these classes were almost solely based on the weekly readings, and the discussions are over the authors opinions expressed through the texts. 
The difference in credit system meant that I had to do many more courses than I was used to at home. While the amount of ECT points that a course is worth, is stipulated before your registration for the course, it is possible to request that your participation in the course be worth a higher amount of credit points. This can be achieved by doing additional exercises for example,  after a discussion between the student and the course coordinator. 
These points often do not include a final assessment piece, which upon successful completion, would also present you with additional ECT points, if you chose to undertake then. The format of this assessment, can in some circumstances also be left up to your own discretion, however it is often preferred to be an oral presentation. I presented two of these oral assignments, and one of the major differences in expectations from oral presentations I had done previously, was that the length was much longer. 
In this system, a lot of the work is really up to yourself. It is important to be self motivated and engaged. A key attribute I learnt, was to have clear communication - it is imperative to ensure you have a clear and continuing dialogue with your teachers, when you are in a situation like this. With that, I also learnt from this experience to be more relaxed with my approach to University and that everything will come together in the end. 
The university registration process was quite confusing. After booking individual time slots, we had to turn up to the main building and were directed from room to room, and person to person, in order to complete the process. The whole thing took a few hours, and although seemingly unnecessarily complicated, it was manageable.
Personal experience
I learnt to be comfortable in feeling uncomfortable - to put myself outside my comfort zone and see that I can handle the situation and come out stronger because of it.  I also learnt how to both ask for help in difficult situations, but also learnt that a lot of the time, I can be the one to help myself. 
 
When I reflect on other skills and attributes that I have developed during my exchange experience that have contributed to my personal development, it is  perhaps unsurprising, but nevertheless valuable, that I learnt a lot about being independent and with that, becoming more confident in myself and capable in my own abilities.
 
I lived in a very international house and I got to meet and become friends with a lot of people from all over the world; this definitely helped to broaden my mind and perspectives. 
I think that my relationship or perspective on the world, and on my little world at home, really changed while I was away. I learnt more about myself and the things that are important to me. Through this process, I feel as though I have become both more reflective and more critical. 
From Berlin as a city, I also learnt a lot. Historically of course there was a lot to learn, but also in the contemporary setting Berlin offers a lot. The attitudes and perspectives on memorialisation, coming to terms with the past, moving forward, openness and progressiveness are just some of the things that inspired me about Berlin. 
I also made some amazing new friends and travelled to some amazing places on my exchange, which were some of the most important things I have gained from my experience.
Accommodation
After much deliberation, I decided to apply for student accommodation. I had strongly been considering trying to find my own place once reaching Berlin, but I was torn between these two options. I was advised from local Berliners to go with the student accommodation considering the current housing crisis Berlin is experiencing, and this was finally what helped me to make my decision. I applied, was denied, and then eventually offered a place in a student dorm, almost an hour out from the centre of the city and from where my classes would take place. This accommodation application was offered in my application process to the university. 
I was very lucky to be offered a position here, because my experience with my roommates ended up being the most amazing part of my whole exchange. I created some of the closest friendships I have, with people from all over the world, who I know will be influential to me for the rest of my life. I acknowledge that for a lot of people, student accommodation does not work out to be this successful, and that it is a risk moving in with twelve complete strangers, however in my case, it was the absolute best thing that could have happened to me. 
My advice to future students, in terms of housing, would be to reach out to people living in the places you are moving to, and do not be afraid to ask the important questions. I did this by joining Facebook groups focused on life in Berlin, and I was met by really kind and helpful people eager to assist me in having the best experience possible in their city. I also think that it is important to stay open-minded and flexible during this process, which will help you to adapt to whatever situation you end up in and be able to look at it in a more positive light.
Costs
While Berlin is still relatively cheap compared to other capital cities in Europe, it can still be expensive. 
My rent was 400 Euro/month, which is very good for a room in Berlin. Student accommodation is generally cheaper than anything found privately. 
Public transport was included in the cost that I paid for my matriculation. 260 Euro gave me access to unlimited use of the public transport system for the 6 months that my student ID was valid, along with everything else involved in the Uni registration. This was a very reasonable price, especially considering how much I relied on public transport during my time in Berlin.
My weekly grocery shop was usually around 50 Euro/week, however I would suggest budgeting for a little more, as going out for food or coffee with friends is pretty common. I tried to mainly prepare my own food and take it with me for lunch, but sometimes a Döner after Uni is too hard to resist.
In terms of entertainment, I didn't actually spend too much money. I was aware that I was living on a budget and so would do things in and around the city that didn't entail a cost (there were many free museums, I went on free walking tours, wandered through the many parks Berlin has to offer etc.) and was aware of free events that were happening in the city.
To travel can be quite expensive, but if you are organised early enough, you can take advantage of the cheap and easy transport there is within and across Europe. Busses were really useful for me when travelling between countries or cities. I had particularly great service on a company called Ecolines, but Flixbus and National Express are also fine in getting you from place A to B.
Challenge
I think the biggest challenge for me during my exchange was the feeling of loneliness and feeling so far away from home when unfortunate things happen. 
For me, my laptop and phone both broke in the same week. These were both extremely important for me studying at university in a city that I still wasn't extremely comfortable getting around in without the help of google maps. 
I was stressed and confused about how I should move forward, but it actually opened me up to learning a beautiful lesson of the generosity of the people in my life. New and old friends were all there to support me and lend me the things that I needed to get by.
Professional Development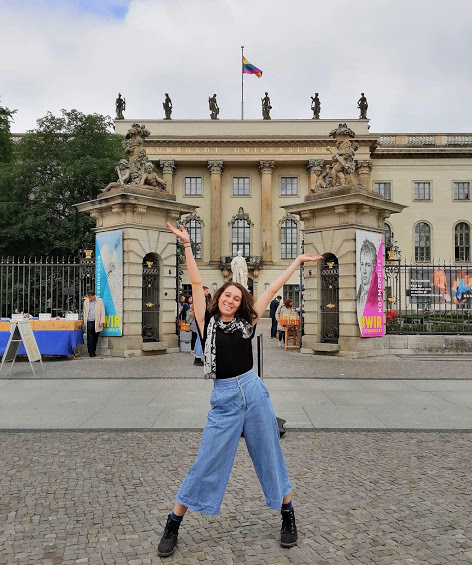 Academically, and in a professional sense, Berlin was the perfect place for me, as I major in International Relations and German. The city obviously is the site to so much historical significance that you really cannot escape – which I loved learning more about from a new perspective and with insights also furthering my German speaking abilities. 
Other skills and attributes that I have developed during my exchange experience that I can see contributing to my professional development would be in the realms of practicing clear communication between myself and those in a higher professional position than I am, becoming more confident in myself and my own abilities, more responsible, proactive, resourceful and resilient. All in all, I learnt how to come into a new and foreign (intimidating) environment and to succeed.
Highlight
The highlight of my experience was undoubtedly the friendships that I made and the time I spent with these people, rather than one particular event. 
But overall, the realisation that I was living my childhood dream - overseas, studying something I care about it with wonderful friends around me.
Top tips
Be prepared that the University doesn't use the internet as much as you might want, or are used to. 
Remember that there are many different expectations academically and it might take a while to get used to, but there is help available if you ask for it. 
Be self motivated.