Academic experience
In Purdue I picked four engineering courses plus HIST151 American history as free elective. These engineering courses are: ECE311 Electrical and Magnetic field, ECE264 Advanced C programming, ECE301 Signals and Systems, and ECE362 Microprocessor Systems and Interfacing. I highly recommend HIST151 to fill 15 units requirement if you are confident of essay writing. Learning American history in America is a special experience and the course is very fun. You will find a lot of interesting history facts in this course: how was United States established? How was the fate of Britain, France and US tangled? You will see the facts below the history you already know.
As top university in academic achievement across the world, UQ and Purdue share a variety of similarities in teaching method. Both UQ and Purdue encourage students to make their own design and create something new, rather than forcing students to recite formulas or functions without understanding how to use them and how they work. A fun fact: almost every programming assignment I did in UQ is about game design, and in Purdue I also got a chance to make my game. I worked with my team and successfully designed a piano game without any technical help from outside, which gave me a strong sense of achievement --- that's why I love this teaching strategy so much.
The difference in teaching will be more about the teaching schedule. Purdue focuses very little on final exam, instead all courses separate the whole semester into three to four progressive mid-term exams, about once per month. That gives all students a chance to chase back if they do bad in one of the exams. But this strategy also hardens the burden, since students have to prepare one exam after another with no time to rest. And instead of doing two to three big projects like in UQ, I had assignments released and due every week. Honestly these exams and assignments are annoying to me, but it did push me to keep learning and reviewing, rather than leaving all works before the due date.
Personal experience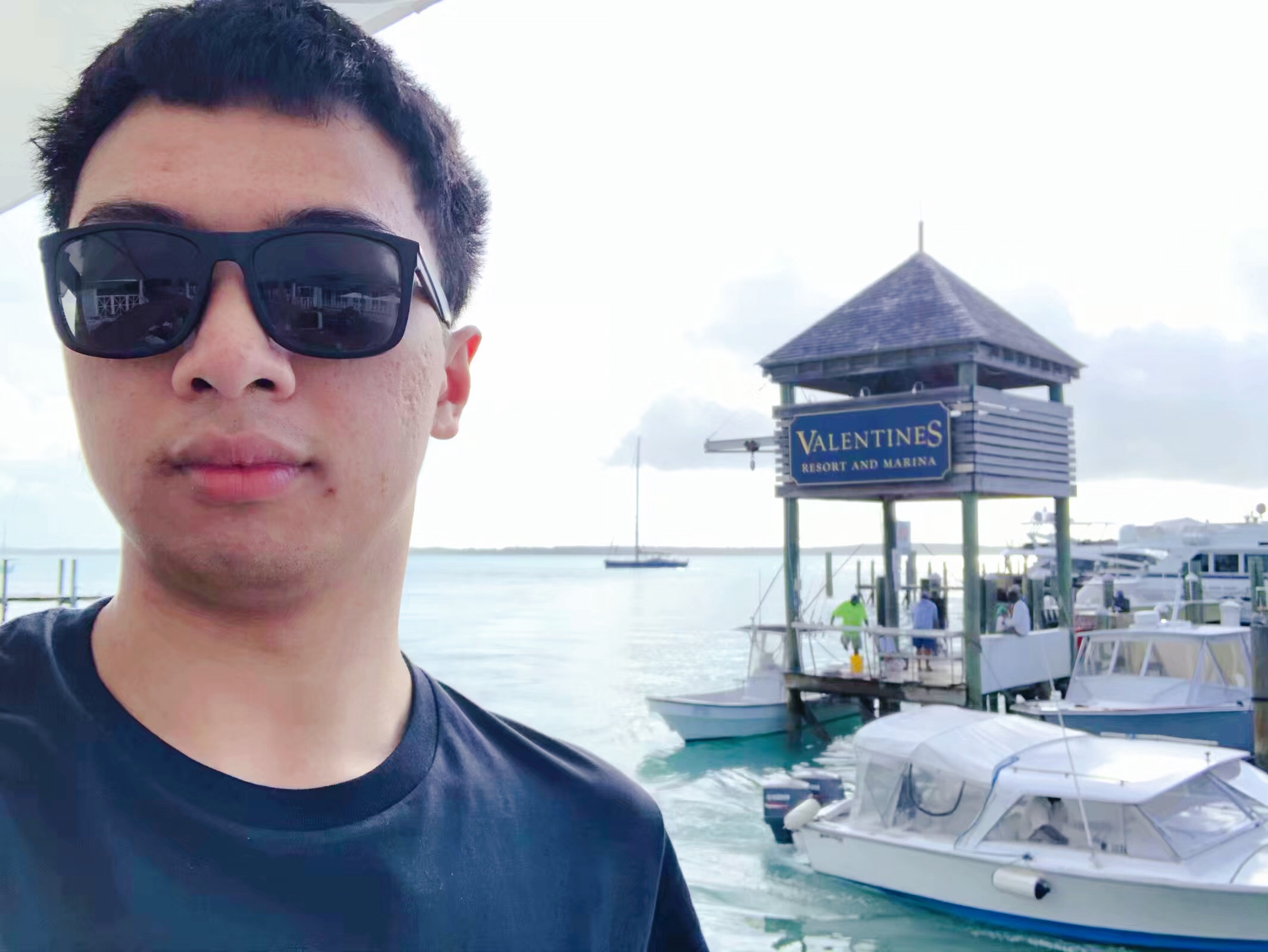 During my exchange I had two excellent travels that brought me a lot of fun and joy. I would like to talk about my trip to Bahamas during the spring break. Bahamas is an island country located at the middle of US and Cuba known for beautiful beaches. It is really a good place for spring break. I can throw away all my worries, my tiredness, and my bad mood to embrace summer and sapphire sea. I visited the famous "pink beach", the pig island where you can see swimming pigs and feed them with bread. I also had a good day in a huge water park with a beautiful beach. You may think this trip is too normal, since we already have gold coast and Great Barrier Reef where we can enjoy the beauty of ocean --- but even "back to summer" can be a precious wish when you live in an outdoor temperature of below -10℃ for three months.
After the semester ended, I travelled to Orlando with my friend Linfeng. You can find his testimonial on the same page talking about our trip there! It's hard to find a word to describe how fun the Universal Studio is! Love it soooo much!
Accommodation
If you don't mind having a roommate, I highly recommend you live on-campus. Cold weather there is a big problem for everyone who doesn't own a car. The snowy weather can last from January to April, and the street is very slippery when the snow melt in daytime and freeze again during midnight. Walking to bus stop and waiting in such a temperature is a bad experience that you won't want to repeat again. If you decide to live on campus, before you go there, you will get a website asking which dorm you would like to take and what kind of people you are. (e.g. play game or not, social or not) Your roommate will be likely to have similar habits and preference.
Costs
The dining out cost would be 10% to 50% more expensive than that in Brisbane, depending on the restaurant you pick. Again, note that the price does not include tax and gratuity, so the price gap between fine food and fast food would be larger than what it looks like, since you are not required to pay tips for fast food. Typically, the GST rate in Indiana is 6.5% and gratuity rate would be around 15%. If you pick a meal plan and have your lunch and dinner in Purdue Dining hall, the cost would be around 10 USD each, paid before the semester begins. The price is super worthy for a buffet.
If you want to live on campus, the accommodation cost will depend on the dorm you pick. I picked "Apartment with AC" which costs around 220AUD/week. "Double with AC" costs less and "Single with AC" is more expensive and rarer. That means you are less likely to be allocated to a single room, even if you place it on the top of your wish list. Travelling by bus in West Lafayette is free with your student ID, but you won't find many places to go if you live on-campus. You can get everything you want from Walmart which is just 4km away from campus.
Challenge
As mentioned above, the study stress there is heavier, and sometimes I had to sleep for less than four hours to prepare for one exam while having to finish assignments from other courses. The full study load there is 15 units, which is typically 5 courses per semester. In such a case, the biggest problem is not learning, but how to build up my mind and not give up in stress. Cold weather there is also big challenge in everyday life. It's hard to say how weather is related to mood, but walking home in cold weather can sometimes be compressing.
Professional Development
Yes, I complaint a lot about the stressful study there, but I finally overcame all the problems and these experience makes me stronger. I learned how to control myself under the stress, how to cooperate with friends and mates, and how to relieve the pressure when things are out of control. These help me a lot in the future study and works. Every time I face difficulty, I think about my days in Purdue and gain power to fight again.
Highlight
In ECE362 the final project is about using STM32 microprocessor to design a prototype. There is no requirement on what the prototype should be like, so my team have the freedom to make it whatever we want. With all the knowledge I gained in the semester, I was able to lead my team to design a piano game, with all rules decided by ourselves. This is a super fun experience, and it's the first time I made a game in such a way.
Top tips
1 There are many trivial things you need to do. Don't leave it behind or it will lead to big trouble, especially the things related to visa.
2 If you want to travel outside US during spring break, don't forget to have the travel approved and signed on your ds2019, or you will have trouble returning. 
3 Gym in Purdue is great, high recommend to make good use of it.