Academic experience
Kyoto University (KU) has a great program for International Students. The team that run the KUINEP program take very good care of you. KU has a whole office dedicated to answering your questions, checking that you're registered for all the right things and ensuring that the academic part of your exchange runs smoothly. They have an online portal much like blackboard, called KULASIS that has your timetable, messages from lecturers, lecture slides and your grades. The full-time load at KU is 6 courses, each made up of a 1.5 hour lecture, once per week. But don't be intimidated as many of the courses have a lighter load of content than a UQ course. These courses are designed to encourage discussion and cultural exchange between students. I took classes in comparative psychology, conservation biology, entomology, nematode biology, psychopathology and cultural anthropology. In the first few weeks, I could attend any classes I liked and confirm later which ones I would take. I chose classes that interested me, had engaging lecturers and would be credited at UQ. The classes I attended typically comprised of half domestic students and half international students. I would encourage anyone attending KU to actively engage with your classmates, especially domestic students, as Japanese students can be quite shy. Many of the courses included a group presentation for the mid-semester assessment followed by a final exam in the last week of semester. While on exchange, I completed the equivalent of three science electives (6 units). Some of my best moments from class included: collecting bugs around campus, injecting a microscopic nematode with a fluorescent protein and eating bee larvae.
Personal experience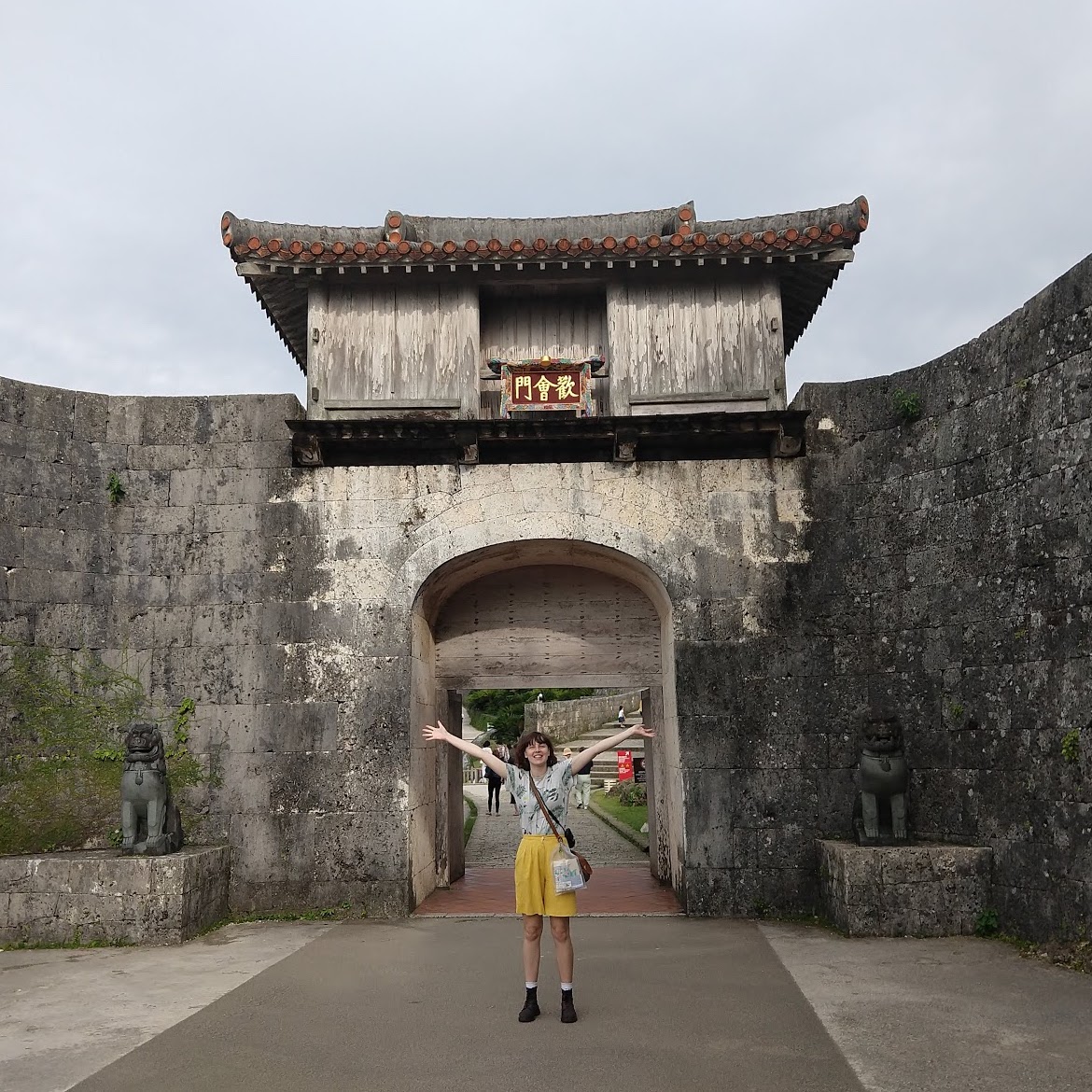 I absolutely loved living in Kyoto. It is the most beautiful, most culturally rich, and most friendly city I have ever been to. The campus is in Sakyo Ward which is roughly an hour north from the city centre by bus. Living right next to campus means that you will spend most of your time away from the busyness of the city. Sakyo ward and the surrounding area is so beautiful. There is a long river, called the Kamogawa River, that runs from KU all the way to the city centre. I passed this river almost every time I went out and it was a beautiful place to have picnics, watch the sunset and cool off in the summer. From the very first day at KU, they assign you a buddy. These are Japanese students with good English skills who will show you around Kyoto, answer any questions you have about campus life and translate for you when registering for things like a bank account or health insurance. My buddy was a second-year medical student who would check in with me every couple of weeks and take me out for ramen! My partner's buddy became a valued friend who hosted weekly board game nights. The people we met at these board game nights became our main group of friends. Together, we visited shrines, went out to drag shows and had cook ups. I also met some more creatively-minded international students through my classed that would invite me to experimental art exhibitions and contemporary dance performances. Watching theatre in Japanese was a challenge but there were some great community spaces that hosted many dance nights where language wasn't an issue. Travelling abroad with my partner meant that I always had somebody to go on adventures with. On weekends and during Golden Week, we would explore the further parts of Japan. The most memorable trip was probably visiting Okinawa, 'the Hawaii of japan'. Okinawa was sunny, beachy and had amazing food. We got to go snorkelling and visit Churami aquarium which had a huge range of strange and elegant fish.
Accommodation
Organising where to live was probably the thing that caused me the most stress before arriving. KU has many, well-priced dorms available that they will encourage you to register for during your application. These dorms have a great sense of community and were good places to make friends. Managing your accommodation through KU makes the process of finding accommodation stress-free, however, if you apply for accommodation through KU, they will select your dorm for you (some dorms are much further away from KU than others). I chose to find my own accommodation because my partner and I wanted to live together. The program recommends against renting apartments as many agencies will not rent to foreigners, will charge hidden fees and will not offer you the rental period you desire. Despite this, we found a small place that was owned by a woman who lived in Australia. The apartment was 10 minutes from the university and cost roughly $1200 AUD per month, for the two us. If I were to have come alone, I would highly recommend living in a dorm, as it is an easy way to make and maintain friends. Other friends who were PhD students and post graduates lived in communal apartments or Yoshida or Kumano dorm, KU's less well-kept dorms that are as cheap as $50 AUD a month. To live in one of these dorms, you need to apply separately.
Costs
I probably spent the most on eating out. Japanese food is so delicious! Meals at restaurants are comparable to Australian prices. If you want to save money, there are many cafeterias on campus where you can have a tasty, filling Japanese meal (such as a don or a bowl of noodles) for under $10 and sometimes even under $5. If you live close to the university, you will pay no daily transport costs. Kyoto city is a bike city. Most of Kyoto is flat terrain, so you just roll everywhere. Everybody gets around on a bicycle and there is parking almost everywhere you go. I lived a 10-minute walk and a 2-minute ride from KU. One of my friends lived on the other side of the mountain (Daimonji Yama) and would still choose to ride to KU instead of public transport. The transport services are frequent and reliable. To get to the city, you can catch the underground train parallel to the river or a single bus, both for about $3 AUD. If you want to go out of Kyoto to other major cities, you can go to Kyoto Station in the city, catch a bullet train (Shinkansen) and be there within a few hours. These Shinkansen are fast but expensive (upwards of $200 AUD). Whenever I wanted to travel to another city, I would catch an overnight bus that was at least one third of the price. Overall, I would recommend budgeting $1500 AUD per month (this includes $600 AUD for rent).
Challenge
My greatest challenge was being away from home. Hearing about others' exchanges, I thought I would be more resilient and unaffected by loneliness, but it is a very real, very human feeling. Back home, I am involved in many creative circles with communities of people that I see weekly. Making friends and building some semblance of this community was hard. The weekly board game group that I joined was an important foundation from which we could plan event and visit places. Actively talking to classmates and being involved in group projects helped me feel more comfortable and at home in Kyoto. My feeling of disconnectedness was heightened by the language barrier. Not knowing much Japanese made me feel like I couldn't be involved in Japanese clubs and I felt I couldn't strike up a conversation with any stranger. However, many locals and restaurant owners were exceptionally friendly and would ask my friends and I about where we were from (doko kara kita?) and what we were studying (nani o benkyoshimasuka?). Having a little bit of understanding of Japanese was incredibly useful and locals are often impressed that you know any at all.
Professional Development
My two main pursuits are in theatre and science, and Kyoto is full of it! It was amazing to see such diverse live performances. Many shows were informed by cultural tradition which made them quite unique, unlike anything in Australia. I am very passionate about the Japanese movement form, Butoh. Kyoto has a small theatre dedicated entirely to weekly Butoh performances and I was lucky enough to see some of the famed perfomers of Butoh including Maro Akaji. Seeing these performances first hand has made me think about movement in different way and has inspired my personal practice. Through one of my courses, I got to visit and observe a chromosome biology research lab at Kyoto University. I spoke to international PhD students who told me about the possibilities involved in doing research at KU. Kyoto University is also known for its stem cell research facility, the CiRA, where Shinya Yamanaka discovered the four major factors involved in creating induced pluripotent stem cells. It was amazing to be so close to a foundational part of stem cell research and I hope I can contribute to the field in the future.
Highlight
• Climbing into a steaming-hot onsen, surrounded by freezing cold, snow-capped mountains in Sapporo.
• Dressing up as an onnabugeisha (female samurai) and walking around an ancient town (with a sword) at Edomura in Nikko.
• Sweating it out at an 80's disco night in a bar hidden in the train station.
• Watching a woman shoot at her audience with a broomstick at the International Butoh Festival.
• Snorkelling around Sesoko Island and eating pork-rib ramen at an old teahouse in Okinawa.
Top tips
• Learn some basic Japanese phrases and verbs before you go. Each word that you learn will help you exponentially.
• Make an effort to say hello. Greeting someone in your class, on the bus or in a restaurant, can make all the difference to your experience. 
• There is no good cheese. The convenience stores don't have it, the supermarket doesn't have it and neither do any restaurants. Embrace the cheeseless-ness of Japan.