Academic experience
While at CBS, I studied four subjects: Business Strategy, International Business Strategy, Financial Accounting and Behavioural Finance.  For each subject, I undertook a 100% weighted final exam that lasted 4 hours and was conducted on a computer.  Three of these subjects were open book, meaning I was able to download all my files from a USB onto the computer in the exam up to 15 minutes before the exam commenced.  Though of course the integrity of the examination hall was always maintained, I was surprised to learn we could take food and drink into the exam, given its 4-hour nature.  Personally, I much preferred this system to the archaic and inefficient way of pencil and paper.
Regarding the subjects themselves, I thoroughly enjoyed Behavioural Finance, given my personal interests, while Business Strategy was decidedly dry, despite its captivating case studies.  One of the biggest challenges I found surrounded the more intensive contact hours, although the online material was certainly sufficient if we were to holiday elsewhere in Europe.
Enrolling in subjects proved to be a bit of a hassle at first due to course approvals, although I had friends who easily changed their courses during the first few weeks of our semester.  The issue, I think, lay more with ensuring credit transferred back home, particularly with my degree.  I would also recommend undertaking two of your courses in one quarter with the other two in the next, so you aren't overloaded with work while all of your friends are having fun, particularly at the start of the semester.  Additionally, try to avoid overlaps, but don't stress if they're unavoidable.
Personal experience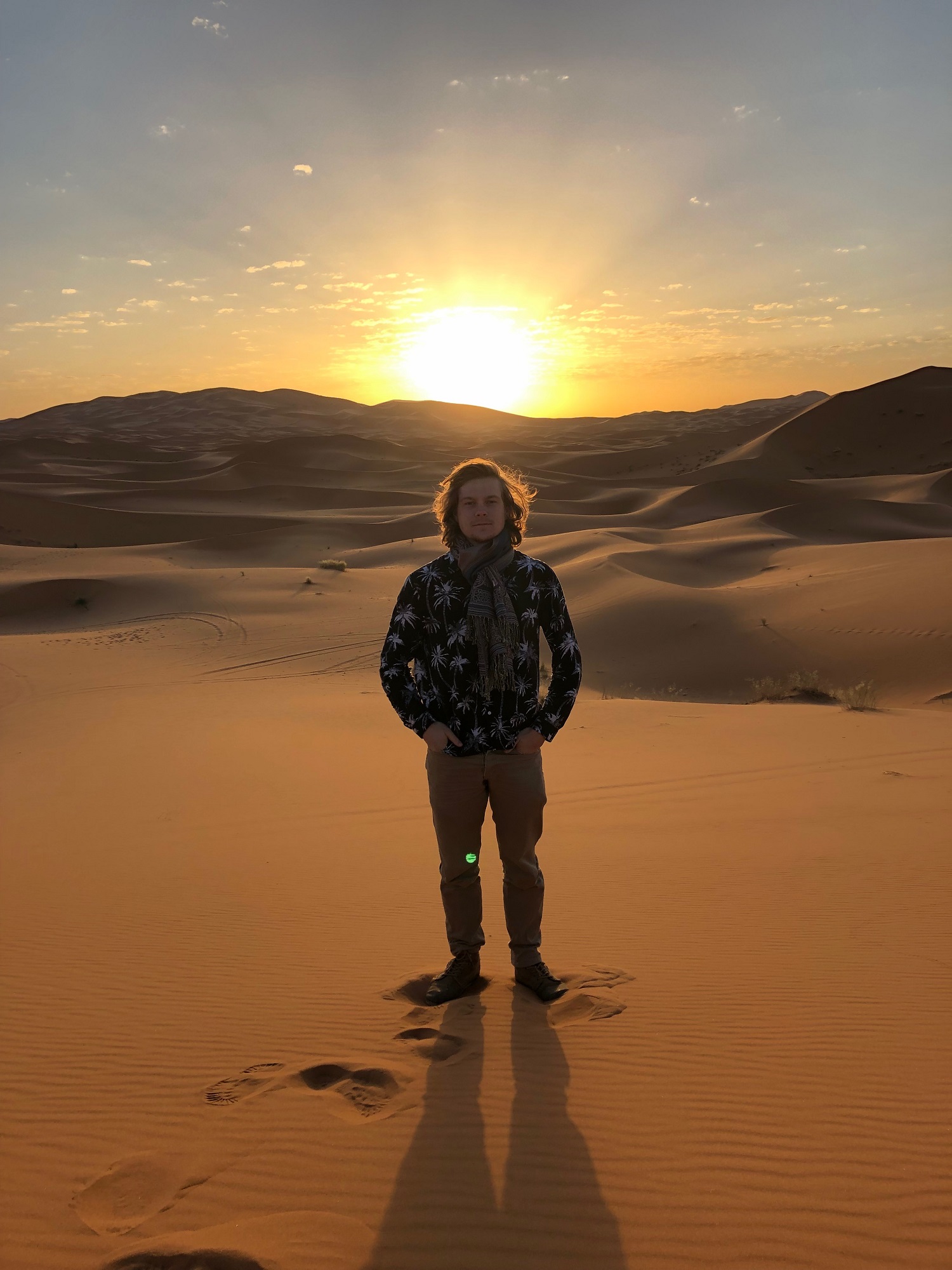 The greatest thing I gained on exchange were my experiences with friends and the places we explored.  Because of the UQ-CBS partnership, I now have amazing lifelong friends from all over the world.  I travelled through 15 countries, including Iceland, Morocco, Croatia and Canada, just to name a few.  One of my favourite memories while travelling was standing next to my best mate Emmanuel as we watched the sunrise over the Western Saharan desert near the border of Algeria after a Moroccan camel ride at dawn.
We did so much in such a short period of time. If you are lucky enough to undertake an overseas exchange, make the most of your entire experience, but especially the first few weeks, as this is the time to reach out and make lifelong friends.
During the colder months it wasn't ideal to go swimming in the canal, but we made the most of the balmy 14-degree weather and went for an instantly regrettable dip before playing some footy in the nearby park with a few beers to follow.  In the warmer months, however, the best days I had were the simple ones in Frederiksberg park with a beer or a wine, basking in the sun all afternoon with the people I love.  I would also recommend hiring a GoBoat for a two-hour trip around the canals with snacks, drinks and your friends.  
In more than 7 months of travelling, Copenhagen is my favourite city in the world.  The people are friendly, society is stress-free and the Danish approach to life is refreshing.
Accommodation
I was extremely lucky to live at the greatest dorm at CBS… a wonderful place called Holger.  Holger Danskes Vej, as it is formally known, has multiple kitchens used for communal meals as well as providing a place to socialise with friends before a night out.  Furthermore, it has a large courtyard with park-style benches at which to eat and drink, especially in the warmer months.  The most common complaint from friends at other dorms was that they didn't have an adequate common area in which to socialise and thus found it harder to make friends after the introductory weeks.  At Holger, we would utilise our kitchens and our courtyard extensively, hosting several themed parties throughout the semester while making sure to be respectful of the neighbours and the landlord. 
The location is also a 7-minute bike ride to CBS Solbjerg Plads (main campus), as well as being a 1-minute walk from convenient bus stops, the local Netto (supermarket) and the main road into the heart of the city via the lakes.  There are also plenty of bike racks inside the gates of the courtyard.
The dorm does come at a price, being the most expensive from memory, but I certainly considered the cost to be worth the experiences I had and the amazing friends I made.  There were also shared rooms if you were looking to lessen the cost, though I would recommend getting your own room for privacy.
There were approximately 55 people who lived at Holger Danskes Vej.  Each room shared a bathroom with the adjacent room, with about 12 people per large kitchen.  Each kitchen was equipped with two fridges and importantly, at least one oven with a stove top (some other dorms didn't have ovens).
Costs
Copenhagen is in Scandinavia, which generally means they pay a lot of taxes for excellent public services such as free healthcare and education, although the cost of living is extremely high.  I paid approximately 5600kr/month (~$1200/month) for a shared room at Holger Danskes Vej, though I was fortunate that my roommate moved out in the second week, which gave me privacy and extra space.  Room prices can be found via the CBS website under accommodation.
Food is also relatively expensive, though not too dissimilar to Australian prices provided you don't eat out.  A restaurant meal will easily be 150/kr ($30), though you can get fast food for between 50-100kr ($10-$20).  Alcohol bought from the supermarket can be half the price of Australia, with a case of 20 beers costing about 80-100kr ($16-$20).  A beer bought on a night out, however, will almost always be 50kr ($10), which is comparable to Brisbane prices.
I would recommend renting or buying a bike.  Renting a bike will set you back about 100kr/month ($20) and a cheap bike can go for roughly 500-600kr.  I rented a bike that came with a lock and built in lights from Swapfiets, which also provided free bike repairs, where they came to you.  Regarding public transport, you'll need a Rejsekort (travel card) for the very well-designed metro and buses, which can be purchased from the airport, although your buddy will likely show you this when they collect you from arrivals.  Public transport can be a little expensive, so I'd recommend riding your bike as much as possible.  Taxis can also take your bike if you're heading home from a night out, though they are very expensive.  Uber was not available due to protectionist policy.
In terms of travel, flights within Europe are cheap, however, flying in and out of Copenhagen is relatively more expensive, perhaps due to higher taxes.  I think the cheapest airport to fly into from Australia is Amsterdam, which is what I did before making the most of the European train network and then heading to Copenhagen.  I took a train to Berlin, Dresden, Prague, Munich and then flew up to Iceland before heading to Copenhagen, over a 3-week period.
My time abroad was very expensive, however, I travelled for three weeks prior to exchange as well as a month afterwards through the Greek Isles, Croatia and Italy, before heading to America for another month through NYC, Washington DC, Boston and Montreal.  Additionally, I travelled to Sweden, Switzerland, Portugal, Spain and Morocco.  
Despite its high price, the experiences I had and people I met made the trip worth every cent.
Challenge
The hardest challenge was leaving.  Some of the friends I made during my time there I now consider family, especially after living with them for so long.  I solo travelled a fair amount and the only few days I ever felt homesick, was for Copenhagen, never once was it for Australia.  I wish I was back there now because it was the greatest 6 months of my life.  I'm sure, however, I will see those friends again in the years to come.
Professional Development
Exchange opened my eyes to the expanse of cultures and opportunities that are available, far beyond the borders of Australia, through first-hand experiences.  It also allowed me to firmly cement my desire to return to Europe and America to live.  Solo travelling was also a great experience as it forces you to become more independent and outgoing.
Highlight
The highlights of my experience were spent with close friends, partying and relaxing in Copenhagen, before reuniting with some of them in their home countries after exchange:  Andrea in Milan for five nights where we ate and drank like kings;  Cathryn in Washington DC for a week, where we spent a day in Baltimore and the weekend in Richmond, as well as an afternoon in NYC; and Lauren in Montreal for three nights, showing me the best Quebec has to offer.  I look forward to hosting them all in the future.  
In terms of places to visit while on exchange, Morocco was my favourite holiday destination.
Top tips
I would highly recommend choosing Holger Danskes Vej as your first dorm preference.  
When shopping, go to Netto or Lidl, as Lidl has especially cheap items.  
All cans and most bottles are recyclable, so make sure to collect them and get your refund at any supermarket.  
Download the Dotbilleter app for public transport.  
Some bars/clubs offer happy hours with free drinks like LA Tequila Bar on Tuesdays.  
Cycle to Christiania, it's quite unique and a nice ride.  
Go to Morocco and do a 3-day tour to the Saharan desert, it's relatively cheap and very much worth it.