Academic experience
At Ritsumeikan University, I studied in the Intensive Japanese Language (IJL) track during the Spring Semester. The IJL track includes classes in Japanese comprehensive, speaking and listening and writing. In addition to these classes, I took 2 Open Studies in English (OSE) track courses which included Japanese Economy and Japanese Confectionary. As I was taking a reduced study load, my weekly schedule had consisted of 8 classes with a duration of 1.5 hours per class and was on campus every weekday; however, due to Golden Week there were make-up classes on Saturday.
One thing I found interesting about Ritsumeikan is that there is an allocated 50-minute lunchtime during the weekday. As well, most classes at Ritsumeikan had a required attendance which heavily weighed your grades. This was the norm for my Japanese classes back at UQ, but this was also the case for the OSE classes.
In the IJL track, I was designated into the Level V class. I found the content quite challenging, as we went through the material quite quickly and students were expected to prepare prior to class. The class setting is very similar to back at UQ where the teacher would engage with the class as a group and all interactions were conducted in Japanese. As the class consisted of only 15 students, while the teacher was able to attend to all students, you had to make sure that you were organised for every class as the teacher could easily tell or not. The most important classes for IJL track were the Japanese Comprehensive classes. It was both the most challenging and rewarding class in the course. The textbook used for this class offered everything you needed to study in order to succeed in the class, and we covered the textbook from cover to cover. There was a lot of homework in this class which included textbook exercises, worksheets, oral assessments, essays, and so on. I found the workload manageable if I continued to study a bit each day and had good organisation for upcoming assessments. What I enjoyed the most were the IJL teachers and the conversations they brought into class. It let the classes be more interactive, and I learnt so much about Japanese society as a result. Overall, these conversations really engaged us to learn more and brought laughter to an otherwise challenging class.
The OSE track classes, Japanese Economy and Japanese Confectionary, were interesting classes which further deepened my knowledge of Japanese culture and history. In Japanese Economy, every week the lecturer would bring a new chronological key event in Japanese economy history; including, the Bubble Economy and the Lost Decade. In Japanese Confectionary, we had the chance to make wagashi where my favourites being sakuramochi and manju. Then, every second week we were in the classroom being taught about Kyoto's confectionary and its history.
Personal experience
Since coming to Japan, I feel like I have become a more independent and open-minded person thanks to the experience and people I have met. Never would I have expected to meet so many people from different countries and walks of life if I hadn't gone on exchange, and I am truly grateful. The people that you interact with both on campus and at the dorm is what truly makes the experience worthwhile. While it was hard to make friends with Japanese students in order to improve my Japanese, I learnt it was important to take initiative in inviting them out and joining activities on campus. I had also tried out several clubs out of curiosity and decided to join the pottery club who were very welcoming to international students. During the Spring Semester, I have seen the renowned deers of Nara, the wonderful food and shopping streets of Osaka, the whirlpools of Naruto and tasted the refreshing ramen of Tokushima in Shikoku during a small pilgrimage trip, visited the most ancient and important Izumo-taisha in Shimane prefecture, went on a pilgrimage for my beloved series at Iwami in Tottori prefecture, prayed for academic success in Fukuoka city and spent a week of café hopping in Tokyo. That isn't to say that there is nothing in Kyoto – far from it. The cherry blossoms which bloom in April in Kyoto are among the most beautiful in Japan. It was really exciting to do Hanami (flower viewing) with friends and take aesthetic photos in Kimono at Arashiyama. Kyoto also hosts the Gion Festival which lasts during the entire month of July and it is one of the famous festivals in Japan. During the nights of the festival, we went out in yukata and explored the parade which had huge floats and food stalls. Kyoto is also renowned for its many shrines, so if you haven't taken a visit to a Kyoto shrine its best way to spend your weekend immersing yourself in Japanese culture.
Accommodation
A 15-minute walk away from Kinugasa campus is the Taishogun International House which I had stayed at. For Ritsumeikan International students, there is the option of 3 dorms which differ in the number of residents and distance from the campus - generally, the less residents there were, the further away the dorm was. Taishogun houses over 100 students including short-term, long-term and international students. There are 4 floors where the 4th floor is exclusively for women. Among the residents are RMs who are there to assist you in settling into Kyoto and can offer you advice during your stay. In the dorm, there is a shared kitchen space, toilets, showers, study room and lounge area which are available on each floor, then on 2 floors there are laundry rooms. Each of the residents have cleaning duty on rotation throughout the month. In the laundry room, you pay ¥100 to use either the washing machine or dryer and then you can dry your clothes on the rooftop space using the rails available. Next, in your room you are given a sink area, refrigerator, shoe closet, open wardrobe, bed, desk space and shelves. Bed sheets are also provided, and you are offered a change of bed sheets every fortnight.
Costs
In terms of budget, I recommend that you think first of what it is you want to achieve on exchange. That could include travelling, eating gourmet food, going out with friends, or shopping. Japan is quite expensive compared to Australia; in particular, fresh produce from Japan is pricier than any imports into Japan. For example, one apple in Japan is around ¥200 (= A$3) which surprised me considerably at first. I opted to keep within a budget of ¥80,000 which included food allowance, local travel costs and dorm rent. From this, the dorm rent is ¥44,000 (includes bed rental, wifi, electricity and water usage). Travelling in Kyoto is a little more expensive compared to Brisbane with bus and train being the most used form of transport, and most days I was travelling to either Kawaramachi (downtown area), Kyoto Station or Osaka. For food, I both cooked at the dorm and ate out with friends. Almost all the dorm residents bought their groceries at the closest supermarket, Izumiya, and those who wanted cheaper groceries went to Gyomu, which takes a while to get to from the dorm. If you don't want to go to the trouble of preparing your lunch or bento, Ritsumeikan has a canteen which offers a variety of dishes often around ¥600 to ¥700. During the periods where I travelled out of Kyoto during the weekend or longer, I would make a separate budget to pay for the travelling costs (often via shinkansen) and hotel fees. 
As well, when you first arrive in Kyoto there are several insurance you'll need to apply for which includes National Health Insurance (paid monthly), Personal Liability Insurance, Fire Insurance and Academic Insurance. I also recommend taking out a mobile plan if you wish to travel around Japan or just prefer to always have wifi on your person. I chose a 9GB mobile plan with Y!mobile as they were the only service that could accommodate short-term students. Japan has become fairly strict on short-term residents taking out mobile plans, so I would suggest looking into Y!mobile as they also offer a student discount.
Challenge
The greatest challenge I found on exchange was a mix between making genuine friendships on my exchange and keeping myself busy to not experience homesickness. If you are worried about feeling lonely or homesick on exchange, it is important to find coping mechanisms. For me, I continued to message my close friends and family on a daily basis to keep them up-to-date on what I've been doing. Also, bringing photos of your loved ones and placing them in your room is definitely helpful. In terms of making friends, it was challenging. It is really easy to make friends at the dorm especially when you first arrive and if you live in Taishogun with so many neighbours. However, making friends on campus took a lot of initiative like going out for coffee, or continuing to chat on LINE. Don't be discouraged to make Japanese friends even if you feel like you have to make the effort to open up more... I am so grateful to the friends I have made on exchange and truly wish that we can continue to stay in touch!
Professional Development
In terms of personal and professional development, I have become a more independent and enhanced my decision-making ability. Since I had to mostly rely on myself on organising paperwork and my new schedule, I really found myself at my own pace and had to be prepared for anything while living away from home. Also living in an international dorm, I have become able to be more in-tuned to the thoughts and way of living of people from other countries and backgrounds. I believe it's important to meet many types of people to get a better understanding of their perspective.
Highlight
While it might sound simple, my favourite moments were going out with friends to cafes. Back home I really enjoy going café hopping, and Kyoto has numerous Japanese-style cafes or kissaten which truly reflects Kyoto culture. Among the coffee drinking and taking photos for the Instagram that we could chat in both English and Japanese then get to know one another better. I believe my Japanese conversation abilities exceeded the most during these conversations and I learnt so many new phrases which I wouldn't in the classroom.
Top tips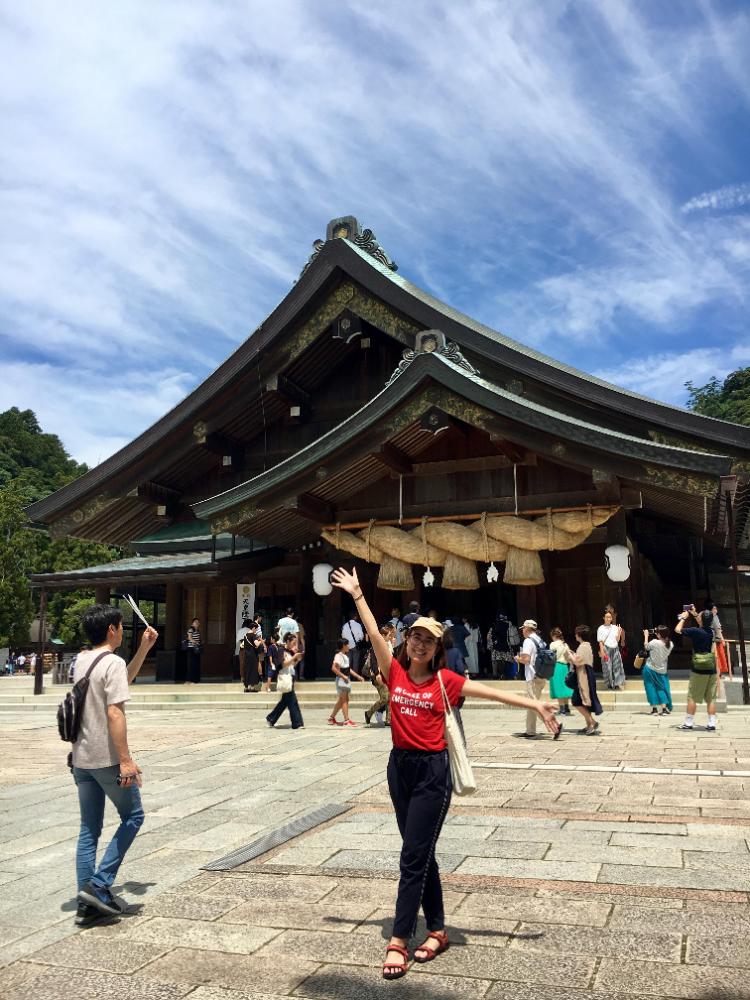 - The paperwork doesn't end before you get to Japan (unfortunately). At Ritsumeikan, you are asked to arrive around a month in advance in order to complete paperwork in order to begin your new student life in Japan. This includes completing your Residence Card details, applying for insurance (both national and at Ritsumeikan) and opening a bank account in order to pay your dorm fees. Don't stress about it, as everyone who is arriving at the same time as you are in the same position… It's a great way to make friends and go to the ward office together!
- During the beginning of the semester, check out the days on which all the clubs and circles are on exhibit (like Market Day at UQ). On these days you'll be able to join trials and experience what activities that club or circle engages in. I had looked at the Flower arranging, Tea Ceremony, Pottery activities to name a few and it was enjoyable! I really recommend joining a circle or club if you wish to make the most of your experience as a Japanese university student.  
- Purchase your tickets earlier than later! I postponed my ticket purchase due to the guidelines of Ritsumeikan suggesting that you purchase after your visa has been finalised... But you'll be compensating with way more expensive tickets than necessary. 
- To those who have cats and feel sad being apart from their fur babies, don't worry... Ritsumeikan has a resident cat on campus under the care of the Ritscat circle!