Academic experience
While on my exchange at the National Taiwan University (NTU), I studied courses from across the college of management that were taught in English. I also studied Chinese through the Chinese language program offered at NTU. Although the Chinese program was intensive and had quite a workload, it was really rewarding in developing my language ability and I really enjoyed the classes. It is also another great class and opportunity to meet amazing friends. 
One of the biggest challenges for me was getting into the pre-approved courses that I required for the semester. This was often because the pre-approved courses you may have planned to take were not offered in the semester of exchange. There are also certain restrictions for example, only students in certain departments were allowed or prerequisites were required. Also, the courses offered consisted usually of only one class a week for 2-3 hour and there are quotas for every class. This also made making your timetable quite restricting with no flexibility (not as flexible as how it is offered at UQ). Therefore, during the registration process, there are two weeks of pre-registration to input all the courses you can or plan to take. Then you may or may not get registration into your course. However, if you cannot get into your course, there are still chances to register. You can email the lecturer beforehand (would recommend) but most importantly you will need to attend the very first class in the first week. There you can obtain a registration code from the lecturer - depending on how they give it out depending on the demand and the maximum student they can take (some had certain prerequisites you needed to fulfil, random draws,  promised students who had emailed earlier, or they will give to everyone). Then you can manually add the course with the code into the system. You also do have add/drop periods for the first few weeks of the semester for you to decide or have other chances of getting another class you wanted to get (as some people may drop the class).
For the Chinese program, unless you have never studied Chinese before or this is not the first semester of your exchange, then you will need to sit a Chinese placement test. They will announce the date, time and venue of the test. The test is to determine your Chinese level ability in your reading, writing, and oral - you can write the test in simplified or traditional Chinese - or even pinyin.
Personal experience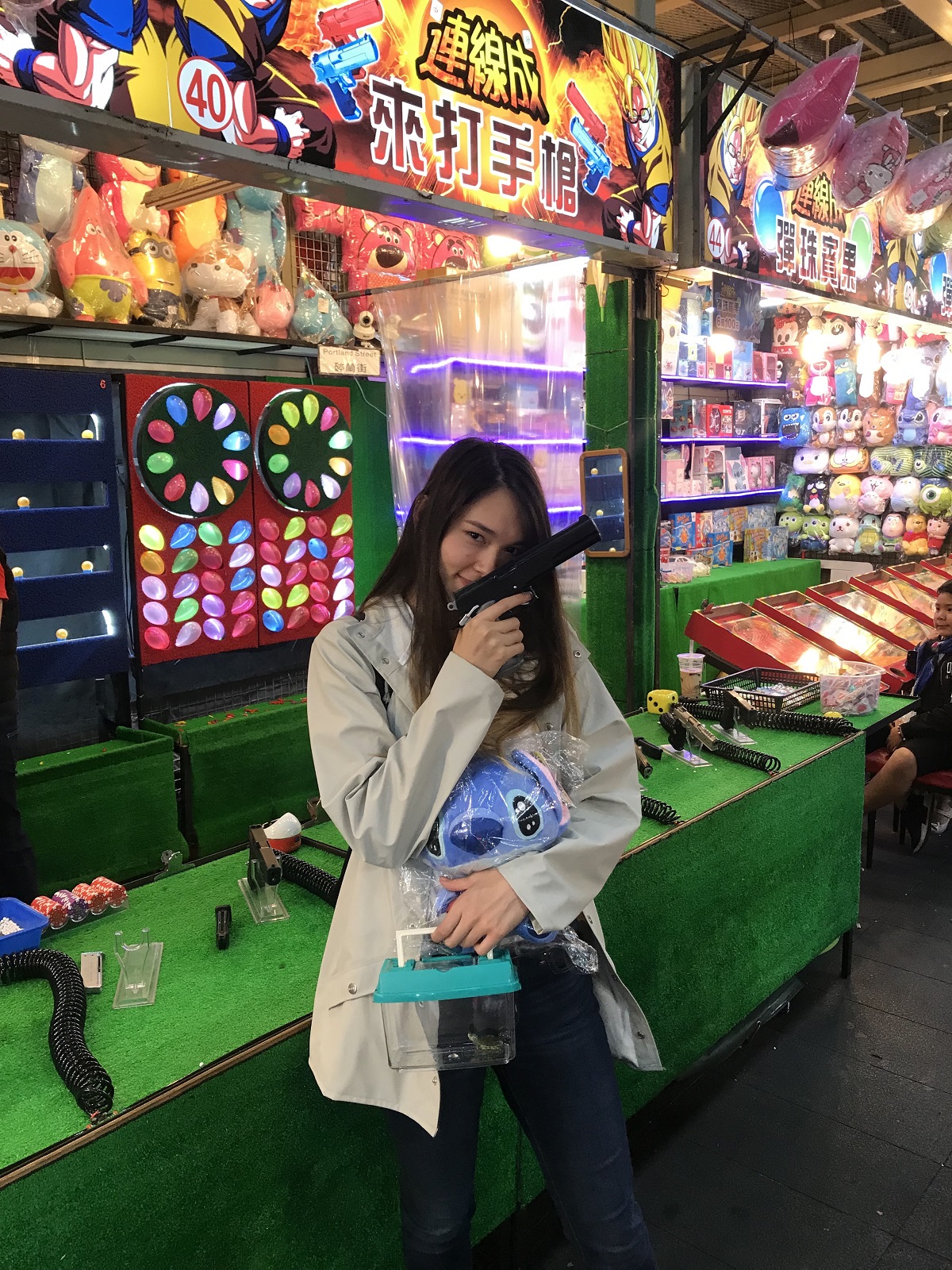 I believe one key experience you will receive from any exchange you do; are the special friendships you will make. I met many friends from different countries (even from around Australia) or locals from Taiwan. These friendships made some of the best experiences I had throughout my exchange - going to classes, exploring the countless food places to eat at, late night 7eleven chills, travels and more! My motivation for choosing my exchange in Taiwan was to explore and learn the Chinese language. I was able to travel around Taiwan, move through Taipei city, explore my residing area of GongGuan - all with the opportunity to immerse myself and practice using the Chinese language every day. Throughout the semester, I was able to take my time to go around Taiwan exploring their numerous beautiful landscapes and sites. I was also able to enjoy their amazing endless range of food - you can never get enough of the amazing foods on offer here! I was also lucky enough to travel to some of the neighbouring countries.
Accommodation
I chose to live in the on-campus dormitories (ShuiYuan Dormitory) that they offer. It is about a 10 min walk to the main gate of the university or MRT station. It is located in a really convenient area (GongGuan) where it has everything you need - numerous restaurants, cafes, a night market, a supermarket, all kinds of shopping and more. Everything is in walkable distances, so it sometimes becomes hard to be motivated to go to other areas around Taipei. I had a single private room - big enough for the basic furniture and private bathroom. The basic furniture includes the bed frame, desk, chair, bookcase, minifridge, shoe stand and air conditioner.  You will need to purchase your own mattress and bedding where you can buy from the front desk/lobby of the dormitory. However, the mattresses they sell are quite thin, so you can also go to IKEA to get better mattresses and bedding. There is also another bedding shop around the area where they sell similar bedding as the dormitory for cheaper. I would also recommend you can ask the dormitory about second hand items, as they can have other things you can pick up. I would also recommend purchasing a bike - new or second hand. There is also a huge 24/7 7eleven next door, which is really convenient for all kinds of things you may need - it will become your regular meeting point.
Costs
The rent for the single private room came to around 7400NTD (345AUD) /month. The electricity isn't included in the rent. Instead you charge an electricity card where you would insert in your room meter. Initially during the cooler months, 500NTD (24AUD) would last me 2-3months of use. Yet once summer started, 500NTD would last me less than a month because of the increased use of the air conditioner (which you will definitely need). 
Food depends on your budget of how much you would want to spend on a meal. Usually you can easily be satisfied with food that you can get for less than 100NTD (5AUD), but generally you may spend 100-200NTD on a meal every day, but you may spend more depending on yourself.
Transport around central Taipei city on the MRT (metro system) would be around 20NTD (1AUD). There are also buses and bikes. Taxis and Uber are also generally reasonable, eg. 10-15min drive = 200NTD (10AUD). 
Generally, the cost of living can be either cheaper than Brisbane, or quite relative depending on your budget and activities. Depending on how tight your budget is, you could possibly get by on a minimal living budget of around 20,000NTD - 30,000NTD (950AUD - 1400AUD) /month
Travelling around Taiwan is most of the time really affordable. Most of the hostels around Taiwan are really great and safe.
Challenge
The biggest challenge for me was initially to step out into a completely new and different society, where I didn't know anyone or the language. So, at first it was hard and scary to step out, even just to get food or talk. I eventually gained the confidence and motivation to go out by myself, look around, travel, and finding new places to try. Once I could start talking to locals or shop owners, I realised they were all so friendly and nice, which also helped with my confidence with going out alone.
Professional Development
I think this exchange experience has enabled me to develop self-reflection, independence and awareness. I have learnt more about my own strengths and weaknesses. By understanding myself better, I can then focus on improving myself. I have also noted my approach to overcome different and new challenges has become to focus more how to use that challenge as a motivation to learn and improve. Interpersonal and networking skills have developed through this exchange to have more intercultural understanding through these interactions.
Highlight
The highlight of my experience was just to be able to immerse myself into this lifestyle and society. This exchange was the first kind of experience for me to move away from my family and live independently. I had to learn my own responsibilities of looking after myself, budgeting, and planning. By being able to start growing and learning how to be more independent by having the experience to live living in such a convenient, fun and busy lifestyle, has been truly amazing. Of course, another key highlight for me was the opportunities to travel solo or with my friends. After meeting people from different countries, we were able to travel and experience the beauty of what Taiwan has to offer together, making life memories together.
Top tips
•    When looking for courses, make sure you check for your exchange semester as not all courses offered in semester one is offered in their semester two, and vice versa. 
•    If you have trouble getting into courses, email the teacher directly. Also attend all the first class in the first week or the courses you would like to get into.
•    Keep your electives free
•    No matter your Chinese level, if you've studied it before or never, highly recommend doing their Chinese language program to learn some of the language.
•    Get a bike
•    Use dehumidifiers in your room
•    Do as much as you can - travel! Eat! Meet people! Eat!
•    Don't be afraid to go out and explore. Ordering the food or travelling. Don't be afraid to try out some of your Chinese, but even without knowing the language, everyone here is so friendly that they will go out of their way to help you
•    Say yes to any opportunity you are given
•    Bug spray, bite medicine and sunscreen for the summer are must-haves