Academic experience
McGill was both strikingly similar to study at home, while also having some significant differences to UQ. Firstly, a full time study load is usually 5 subjects, which can make it harder to manage time to dedicate to each subject. Signing up to each of your classes can be a bit of a struggle, as the capped numbers in each class make the process very competitive. However, many people change their courses in the first couple of weeks, right up until the end of the add/drop period, so don't worry too much if you can't sign up to the class you want. Enrol in another class from your study plan in the meantime and you will probably get the opportunity to switch later on. The subjects are about the same intensity as UQ, with the exception of the higher level classes. The one course that i took as direct credit was an end of 4th year course, and as i was only beginning 3rd year I found it very intense. For that reason, try and take as many elective classes as possible. However, keep in mind that McGill only allows you to take one class outside of your faculty. The marking scheme for most courses was pretty arbitrary, with some courses being curved and others not, you often had no idea what grade you would get assigned based on your performance until the very end of semester. While you get given a syllabus when you start each course, it doesn't really compare to the comprehensiveness of an ECP. I also found that very few of the science classes had practicals, so all of my contact hours were lectures. Apart from those things, lectures themselves and their assessment felt very similar to UQ.
Personal experience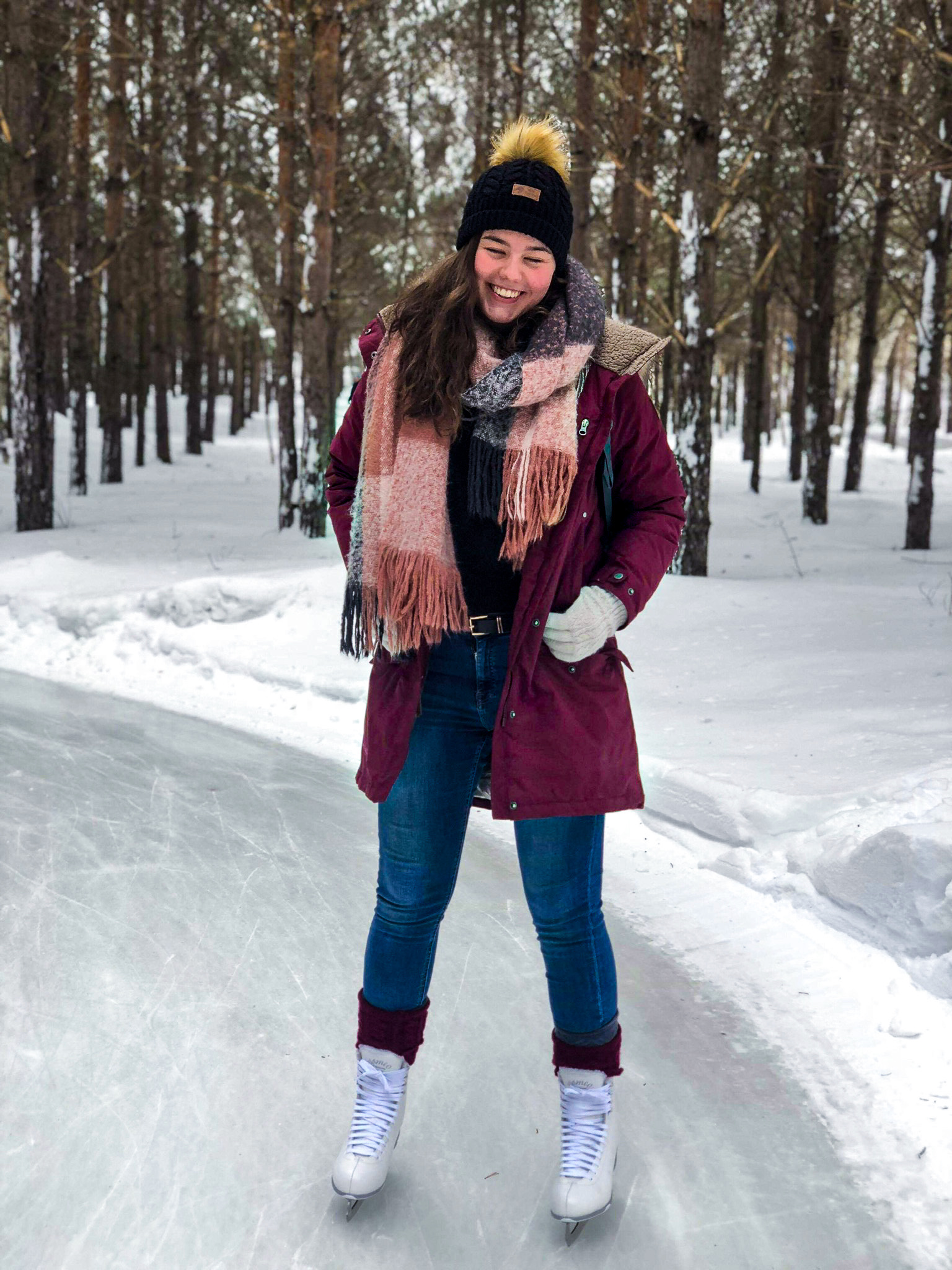 A lot of locals asked why on earth I would visit Montreal in the winter, but it actually gave me so many opportunities to do activities that you'd never find in Australia. Making snowmen in the middle of the university football fields was a completely surreal moment. I joined McGill's beginner figure skating classes (which were super cheap!) and had the time of my life hilariously learning to skate with a lot of other exchange students. There were so many places to skate outdoors, a lot of them free if you have your own skates (which are also super cheap to buy, especially at op shops) like Beaver lake on Mt Royal, the old port, parc la fontaine and so many others. If skiing is more your thing there are plenty of trips all through the winter semester. I also got to go sledding with huskies on a frozen lake which was so amazing. While the winter can make it more difficult to explore the city, if you're equipped with the right clothing (a very warm coat and quality winter boots) there's still lots to see and do. Montreal does winter particularly well, and theres lots of festivals that celebrate the cold weather. Spend some time just wandering in different suburbs, you never know what you might discover - the plateau, mile end, the gay village and the old port are all great for hidden shops, churches and cafes. You can always warm up with a Tim Hortons hot chocolate or some poutine (Quebec's signature dish - basically next level loaded fries) from La Banquise. 
When it comes to the language, don't worry if you don't speak any French. Nearly all shops and services in Montreal are bilingual, and while French can definitely help in some situations, you can easily get away with just English. However, keep in mind that in some regional areas of Quebec are nearly completely french speaking.Montreal is also perfectly placed to visit other parts of Canada and the US, so day or weekend trips to places like Ottawa, Toronto, Quebec City and New York are very manageable.
Accommodation
I lived in a student apartment building called la Marq in the middle of downtown, about 5 minutes walk from campus. It was a perfect position as you don't want your walk to uni to turn into a long arctic trek in the winter months. compared to other rental options it was pretty expensive at $900 (all inclusive of utilities, wifi, gym etc.) a month (you can definitely find much cheaper). However, for the peace of mind of not having to deal with dodgy landlords, worry about heating bills, and the ease of finding new friends in the apartment building, it was worth it. My room had stunning views of the church next door which made waking up on snowy mornings that bit more magical.
Costs
Rent was the largest cost by far, but could easily have been less if I had needed it to bed ($900AUD a month for a large bedroom and a bathroom shared between 2).
I found groceries to be expensive, especially things like cheese, meat, and fresh produce. I spent about $85CAD a week, being conscious about what I was buying but still eating pretty well. Some supermarkets like segals are popular among students, however when you have to carry your weekly groceries home in the snow when its a bitter -20 degrees, they were a bit too far away from where i was living. however if you were committed, you could definitely spend less on groceries. 
Phone plans are basically a rip off, I paid $40CAD a month for 3gb unlimited Canadian talk and text. Be careful on your first bill as they often charge you exorbitant rates for data in the first few days before they 'officially' start your plan, so a lot of us were stung with bills of $100 or more. 
Public transport is fairly expensive, especially if you purchase single tickets (about $4AUD each way). Getting an OPUS card can help, but work out how many trips you think you will actually do, because it's not nearly as good value as a student GO card.
Overall, I found most things to be a bit more expensive than home. I managed to stretch my OS-help loan for most of the time and used about $1000-2000 on top of that.
Challenge
Wherever you go, exchange is such a unique experience in so many ways. Despite being a fairly short duration of 4-6 months, it supercharges your personal growth especially in terms of maturity and independence. Travelling beyond the safety net of friends and familiarity at home forces you to rely upon yourself for everything, including setting yourself up in a completely new country, forming new friendships and dealing with cultural and language differences. Exchange can be quite romanticised after being sold the vision of having next to no uni work, exploring and having 24/7 fun with a massive group of friends. In reality, there are a fair amount of challenges. In a way, starting at a new uni can feel almost like being put back in to 1st year, which can be frustrating to go through the process of refamiliarising yourself with all the different processes of your new uni. Something that you will most likely face is the pressure to always seem like you're doing something exciting or constantly having the time of your life. Don't feel guilty if you need a day to spend time with yourself or if you just can't quite manage that 5th outing in a row. Do as much as you personally can, but try not to compare yourself too much to what everyone else is doing.
Professional Development
As a result of putting myself into a completely foreign environment, I became particularly adaptable to any situation that was thrown at me. Relying only on myself hugely improved my resilience and independence, because I always had to have my own back in every situation. Even though Montreal has a fairly western culture, learning to cope with differences between home and your exchange country fosters the ability to tolerate and celebrate our diversity.
Highlight
- One of the best trips I did was to a forest just outside of Montreal, which was filled with 20km of ice skating trails and was dotted with little petting zoos, including lamas, goats and reindeer - it was so magical. 
- Bota Bota: an open air spa set on a boat in the old port. The water circuit is very affordable and arguably even better in winter. It's so relaxing you'll want to go every weekend!
- Watching a Canadians ice hockey game - the whole vibe was insane!
- Being able to sneak in a trip to Barbados was also amazing, Air Canada and West Jet do some super cheap deals to the Caribbean.
Top tips
- 'Chance of frostbite' is a common part of the weather forecast. The cold is no joke, but if you dress properly to enjoy it then it's very manageable.
- Meeting new people can be a bit harder in the winter semester without orientation activities, so put in the extra effort at the beginning to attend events run by organisations like SSMU and MISN (basically the exchange society). Also, keep an eye out on any facebook groups for any excursions - you don't necessarily have to be in the particular faculty, uni or organisation to go along (nearby concordia uni has lots of good trips too!)
- Montreal is a truly great city for students, so take advantage of all the things that are different from home. Even when it gets a little rough, remind yourself that you probably have an opportunity like it in the future, so try to soak it all in!