Academic experience
I studied Middle Eastern Studies, Spanish Classical Art, European History of the 20th Century, Cultural Comparative Studies, and Spanish for Foreign exchange students. I was part time, because I had already got credits for half a semester at UQ, but normally you need a full time 30 ECTS worth of subjects.
I studied many humanities subjects because I decided to use all the electives on my exchange. This made it easier to go abroad because it meant that I wasn't limited to choosing a university that had appropriate equivalent subjects for my 3rd-year science degree. The enrolment process isn't difficult, but you do need to make sure you get the subjects you want to study approved in your study plan by both your university and host university.
Personally, I am very glad that I allowed myself to explore humanities subjects, especially through subjects like Middle Eastern studies, because I feel I have a wider understanding of the world now. Additionally, taking on a reduced load of subjects allowed me to focus on my goal of improving my Spanish. Immersion is the best way to do so, 100%.
Personal experience
I met so many great people, from all around the world on exchange. Norway, Chile, Italy, America, Switzerland, the Netherlands, South America and more. Madrid is quite an international city, but when you're living with others and going to university with other people also on exchange, you meet so many people in exactly the same situation as you. They want to have fun, go on adventures, explore this new place. You will make so many priceless memories and it will start to feel like home away from home in no time at all.
Some of the places I went to on my travels outside of Spain included; Lisbon, Cinque-Terre and Porto Venere in Italy, Marseille, Bordeaux, among a few others. Everything in Europe is so close and you can get cheap flights easily if you look at least 1 month ahead on Skyscanner. 
However, some of my favourite places were those within Spain.
We road-tripped 5 hrs to Sevilla, got caught in a hail storm which cracked our windshield during late summer and then almost got hit by another car, all in one round-trip. We survived though, and we stayed in an old airbnb mansion in the countryside. Sevilla is gorgeous. It's the old, classic, golden (literally golden yellow everywhere) spanish town with horse and carriages still in the streets and flowers everywhere. The gardens of the Royal Alcazar are my favourite place in Sevilla.
We also went to the Alhambra in Granada, which is breath-taking. It rained when we were there, very, very, very heavily, but in a way, it was most gorgeous in the rain - so fresh, colourful and alive. We also went hiking in Granada, which I would recommend.
Barcelona has many sides to it, but it's backstreets are so so charming, it's very hard not to get lost in time. The art and sea views have a similar charm to them, I would recommend the trip. Valencia is another lovely place.
And of course, Madrid. Madrid just has layer upon layer of adventure in it, there's always a secret place you've never been before, always a cool new cafe or secret rooftop bar. Everyone stays out so late (5am some nights) and it's so safe to walk alone as a woman (in most neighbourhoods). There's a feeling of community everywhere.
I am really happy that my Spanish became good enough to talk casually with my roommates and to watch Spanish tv dramas easily.
Accommodation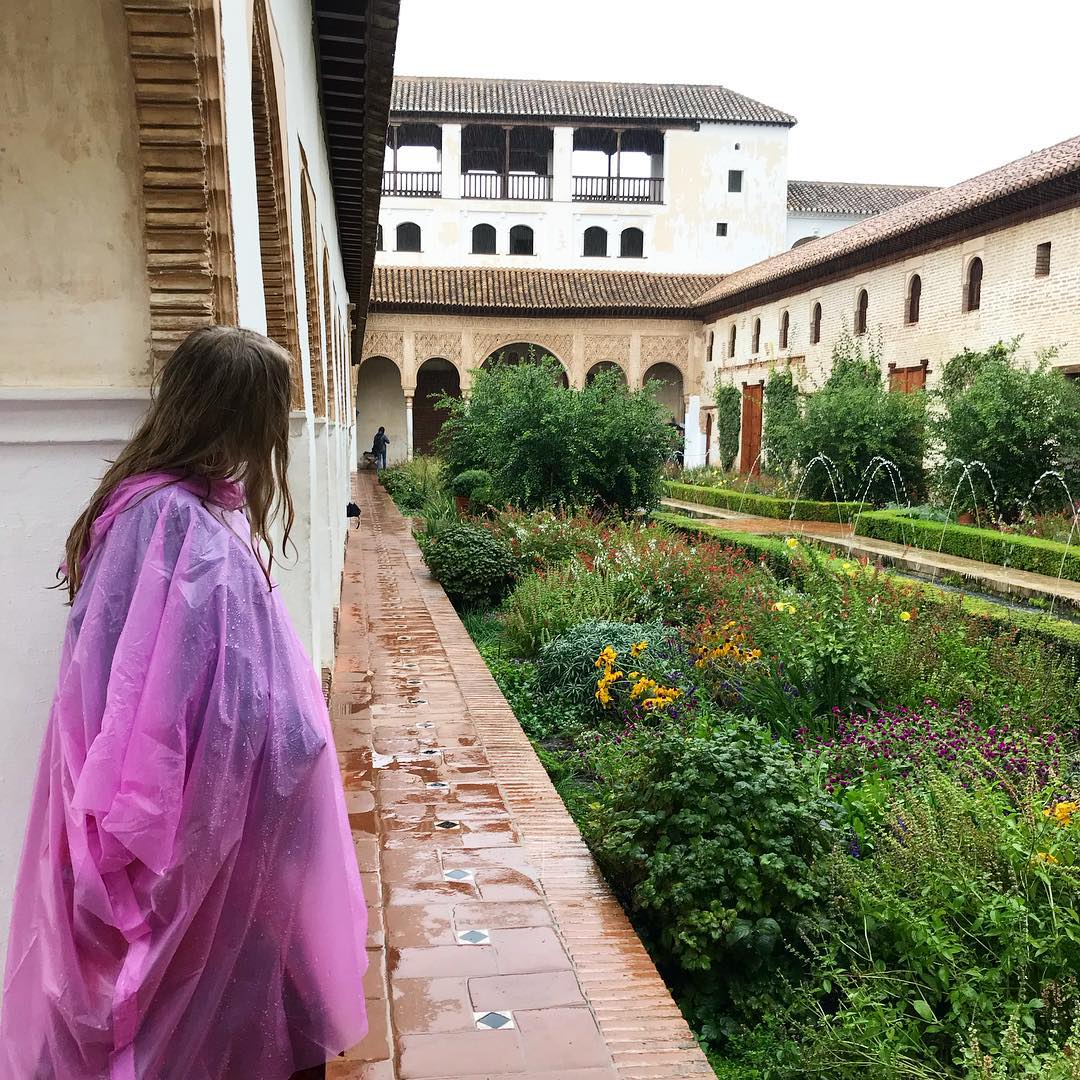 There were no 'on-campus' options for my university in Madrid. I found an apartment online using 'Spot-a-Home' instead. My choice of apartment could not have been better, but it was not the cheapest option that I could have found. 500-580 euros a month is perhaps slightly above average for Madrid, but it is hard to get a place in the second half of the year (August-September). All the good places go very quickly because students are returning to university from summer break, so start looking as early as possible. Spot-a-home was good because I could see online what the apartment looked like, and gas, electricity, water and wifi were included, even though the rent was expensive. The university will email you about potential housing options if you need help.  
Even so, I was very happy with my choice. I lived in Chueca, the LGBT neighbourhood very close to Malasaña, which is the 'hipster'/arty neighbourhood. It was a very safe neighbourhood, with the best cafes and restaurants. Chueca rent is slightly cheaper than Malasaña but still close enough to Malasaña to enjoy everything within a 15 min walking radius.
You get fit living there because most of the time it's faster to walk anyway than take the metro.
I had four flatmates originally, 2 on university exchange and 2 a little older, working jobs. They were from Switzerland, the Netherlands, Southern Spain and Costa Rica. In the last few months, we also had a flatmate form the Canary Islands. It was a fun household, but of course, it can be a challenge setting boundaries - it's best to set them early on, especially in regards to things like smoking.
Costs
Rent - 500 euros for the first 2 months, then 580 euros after September.
Food - variable, groceries < 100 euros, eating out ~100 euros
Transport - with your red travel card = 20 euros per month (this is essential)
Adventures - early booked flights on Skyscanner can be <100 euros, buses can be 40 euros return
Cafes - 3 euros for a coffee, 10 euro lunch menus are good
Some clubs are free at certain hours, 'Citylife Madrid' has many deals and can help you organize your phone plan and transport card (that was very helpful).
Phone - my plan was ~15 euros per month with data roaming
You will eat up more money than you think, especially eating out at cafes adn restaurants. You will need at least 1000 euros per month, but if you get cheaper rent somehow, you can live under this.
Challenge
I think it was learning to live with people who are very different in political opinion or smoking habit etc. and to negotiate differences in Spanish, while maintaining good relationships and making the most of the situation. For example, one of my roommates kept smoking in the kitchen and we had asked him nicely several time if he could not, so I had to have a calm and rational discussion with him, in Spanish to convince him that we really needed the kitchen to be free of smoke at all times. We ended things on good terms and I was proud of being able to do that in Spanish.
Professional Development
Spanish -I had only 1 semester of Spanish to my name and some babbel lessons online and I left being able to have proper conversations with people, and the ability to navigate Madrid comfortably.
I also have learnt to be more independent, to be persistent when things are hard and not to be scared of the things I can't do, because that is just part of learning to do these things.
I  feel that I have learnt a lot about European history and world relations through my humanities subjects, in a way that I wouldn't have only doing science subjects. All of my subjects seemed to mesh together; from the history of the Spanish moors, Spanish architecture on my trip to the alhambra, the causes of the world war, infinity wars of the middle-east and on and on. My learning experience was integrated in my real-life travels. I feel my knowledge of the world is more well-rounded.
Highlight
Traveling with friends and hiking in Granada, cozy cafe meet-ups and brunches with friends, staying out all night dancing and inviting friends for hummus movie nights with my projector! (Too many highlights for just one).
Top tips
Plan accommodation early, join activity groups you like, say yes to travel! Book early!