My experience
Harvard University sprawls across the suburb of Cambridge, just across the river from the city of Boston. The beautiful old brick, Georgian and Federal architecture makes every building, on every street grand. I don't think words could do the architecture justice; the history and all-encompassing atmosphere make for the realisation that "this is Harvard".
I stayed in Quincy House, one of 14 houses located in Cambridge, complete with our own house flag and shield. Although they are houses, a complex would be a better description as each house-complex has 4+ houses and a green square in the middle – with a hammock that made me very happy. Most houses have dining halls and a 3 meal a day cafeteria with an exceptional selection of food, albeit a bit repetitive after 45 meals! Hogwarts style dining tables were where the most fascinating conversations happened because there were hundreds of students studying varying courses. To my surprise, I had my own room in a dorm that had 4 rooms and a lounge room – seems as though bunk beds are only in the movies; how I was looking forward to that!
The geek in me loved finding a new place to study each day. My favourite was the oldest part of Harvard, The Harvard Yard, established in 1636. I also studied in the Harvard Business School, Baker Library, across the river. Unlike Harvard University, HBS is quiet and peaceful with giant trees shadowing the perfectly manicured grounds.
Like the libraries, there's dozens of museums free for students. Sadly, I went kayaking, mountain hiking and to the beach on the weekends so didn't enjoy museums as much as I should have – with the exception of visiting original Van Goughs and Picassos at the Art Museum. Students also get access to frequent workshops and seminars. These were a highlight and an added opportunity to learn from brilliant Harvard professors, for free.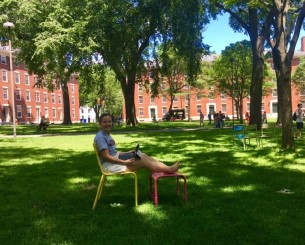 After a special Leadership Coaching one afternoon, we were invited to a wine and cheese networking event at the Harvard Club. The Harvard Club is an exclusive club for alumni to host dinner parties, cocktail functions and private meetings and for summer school students, it's an opportunity to feel inspired and dream about life as a full-time Harvard Student.
Academic experience
The course structure wasn't at all what I was expecting. It exceeded it by leaps and bounds. You'd expect that in the home of the Harvard Business Review, the HBR case studies would be what we would study, day in day out. I was rather surprised, this wasn't discussed once, neither were traditional leadership case studies. Our leadership course had a more well-rounded feel, with readings from Adam Smith, Daniel Defoe, Shakespeare, Biographies, Warren Buffet articles, a movie evening, YouTube clips on sports stars, and a bit of political debate as it relates to leadership! It was quite refreshing learning through different approaches, it was almost like they were trying to prove the point that learning leadership can be found all around us. Our professor certainly exceeded our expectations about the quality of Harvard lecturers. In fact, he even had students from other classes listening in over the informal lunches he hosted in the school cafeteria. Interestingly, he was a lawyer from Yale. It was there he met most of our guest speakers, proving the importance of connections made at universities.
We had one group assignment, a 30-minute presentation, a daily blog and an exam paper on our new leadership philosophy. I liked the blog posts because they were very self-expressive about our learning and experience. My typical school day comprised of blog posts in the morning, pre-reading (a lot) for the evening class, periodic small group meeting debates and then class from 1830 – 2130. From 2200 onwards would be the only time I didn't find myself studying so a 'secret society' was formed between a few of us that wanted to keep the learning going, after the classroom finished. It began as a bit of a joke (and still is) when we saw the need for likeminded people to get together and bounce ideas from class, share life experiences and raise heated topics for discussion.
Highlight
 It isn't often that opportunities arise where people have the time to focus on learning and socialising on a global level. For context, our class represented *70 counties and 29 nationalities* with varying backgrounds who I can now call mentors and friends. Many were on their holidays, coming to learn for the sake of learning but being relentlessly driven was their common trait. Living, socialising, learning, and sightseeing with people for all but 5 hours a day (sleep time) makes you become immediately close. Celebrating Independence Day at our classmate's house was a highlight, followed by Bostonian fireworks. The joys of summer school!
The Harvard Experience enhanced my learning, allowing time to reflect on who I was and focus where I going as person and a leader on a global platform. A Harvard Experience exceeds the world class teaching in a world class institute, it's the global exposure to an array of diverse talent.
Life at Harvard felt like living in a little bubble, an incubator think-tank filled with remarkable humans. When our time is up, we pop out the other side far more openminded about what leadership means and the impact it can have on the world and the wonderful people we share it with every day.