KOMSTUDY - Komazawa University
The KOMSTUDY program takes participants to Komazawa University in Tokyo for a Japanese language and culture study program. KOMSTUDY is designed for university students who wish to improve their Japanese Language skills, and also acquire knowledge and discoveries of Japanese culture and lifestyles directly from own experience.
Field of Study
For more detailed information about the program, view the program brochure and course description. 
Credit Equivalent 
Satisfactory completion of program = 2 UQ Units. Maximum of 2 UQ Units if the KOMSTUDY program is successfully completed (pending UQ faculty approval).
Eligibility and Application
All applicants must meet the UQ short-term experience eligibility criteria and must have completed at least JAPN1013 or equivalent.
Cost
The tuition fee is $2,640 AUD. More information regarding fees can be found in the program brochure. 
Applicants may also be eligible for UQ-specific funding. Applicants will be notified by late-October if they are eligible for travel grants and scholarships awarded by the Global Experiences Team. Please do not rely on this funding to support your global experience.
Brisbane Homestay Komazawa Bursary
The Brisbane Homestay Komazawa Bursary is open to students who have completed at least #2 of Japanese courses at UQ and will be awarded based on the GPA of Japanese course/s undertaken. The bursary is awarded on the basis of demonstrated financial need. Students must demonstrate in their application how they will benefit from exposure to the language and the cultural exchange.
The value of the bursary will not be less than $1,800 but will be limited to the annual income of the fund.
Applications close 5pm - 9 September 2019.
The bursary application form and supporting documentation should be mailed to studentadmin@languages-cultures.uq.edu.au by the deadline. 
More information regarding the bursary can be found in the application form.
Accommodation 
Accommodation in local homestays is included in the program fee. More information regarding accommodation can be found in the program brochure.  
Lochlan - 2019
I decided to complete the Komstudy short term experience in Tokyo because I felt that it would complement my Japanese studies by giving me a chance to apply my language skills in a real-life setting. As well as this, the short term experience provided the opportunity for me to visit Japan for the first time and explore Tokyo and surrounds with my host family, Japanese students from Komazawa university, and UQ students also completing Komstudy.
Read more of Lochlan's story here. 
Jasmin - 2018
KOMSTUDY 2018 has been one of the most life-changing experiences during my UQ program. 
This experience changed me personally, as it forced me to be self-aware, responsible, and to problem solve in difficult and unknown situations. My Japanese language ability also improved during the program - particularly my listening and speaking ability. Additionally, as leader of KOMSTUDY 2018, I believe this experience helped me develop professionally as a leader through organising activities between Komazawa and UQ students, liaising between Komazawa staff, UQ students, and UQ representatives, and solving any problems that arose within the group.
Read more of Jasmin's story here. 
Yvette - 2017
I feel like I have gained many irreplaceable things from this experience. I got a chance to make new friends from all walks of life, ranging from people whom I've never met in UQ, to the Japanese students who kindly took care of us very thoughtfully, to my wonderful host family who've generously given me a warm home in a foreign country. They have all become important to me, and I still regularly keep in touch with them. I've also become less hesitant in my speech, reading, and writing when it comes to Japanese due to the sheer immersion of the short-term program, which I find extremely useful as it definitely helped with my understanding and fluency of the language. I've also learnt to become more independent and courageous due to being in a foreign environment away from home with strangers and having to speak a foreign language which I'm still not very good at. There is more I would like to say, but it would take up too much space. Overall, it was an extremely fruitful experience, and I cannot say enough about how amazing this whole short-term experience was.
Read more of Yvette's story here. 
Jessica - 2017
My Japanese improved tremendously, after a while I stopped caring about getting it wrong and instead just tried my hardest in being understood. The students which I had the pleasure of meeting and getting to know, I'm sure I will remain friends with for a long time. My host family too. I also got to experience another aspect of Japanese culture which I was not privy to before, such as the day to day life of an average Japanese student.
I loved Disneyland and also the tea ceremony. Disneyland was a terrific day out with the Komazawa students. The tea ceremony was held in a traditional Japanese style room on campus. The members of the tea ceremony club taught us how to prepare tea which we also got to try. We also had the opportunity to wear kimonos.
Try your hardest to speak as much Japanese as possible, it's a great opportunity to practice your language skills and also Google translate will be your best friend
Read more of Jessica's story here.
Jessica - 2016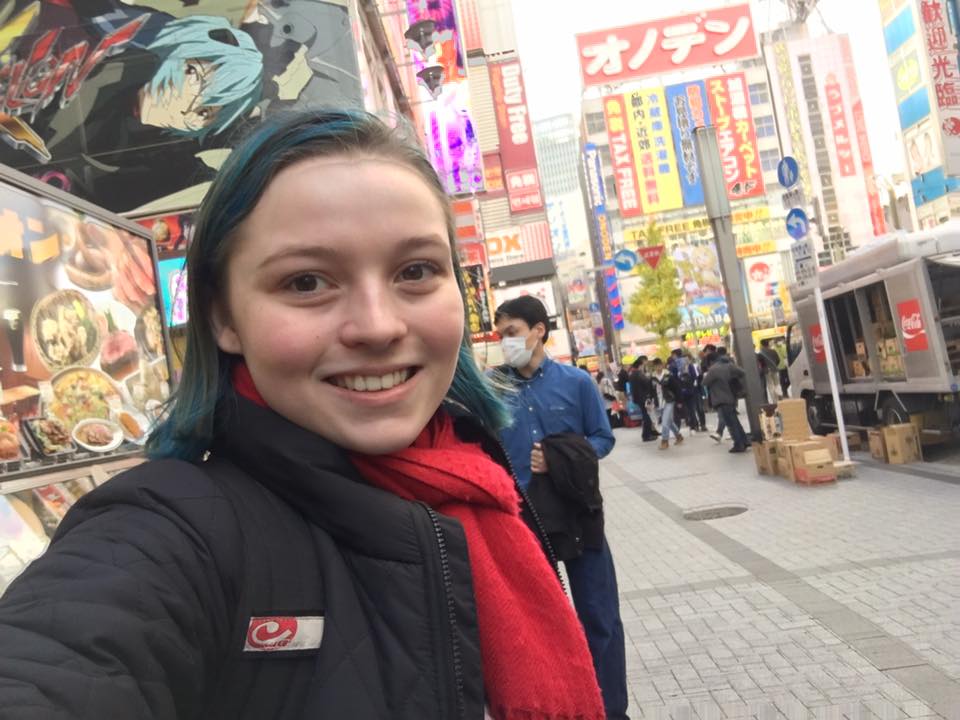 I chose KOMSTUDY because I wanted to try the homestay experience, and because of its perfect timing- right between the end of semester 2 exams and Christmas. Living in Japan was an incredible experience, very different to any holiday, and showed me an entirely different side of Japan. Catching crowded public transport every day to university, exploring the heart of Tokyo after class with our new Komazawa friends and talking to my host family over the dinner table- what an incredible way to improve your language skills. There was never a dull moment as the program took us to Tokyo Disney Land, Google Japan and more and prepared fun activities such as calligraphy and karate for us. I will always be in debt to this program for the new language and life skills it taught me, as well as the many amazing friendships and memories it gave me.
Read more of Jessica's story here. 
Georgia-Rose - 2016
I decided to go on Komstudy after hearing about the positive experiences my friends have had during previous years, and it did not disappoint. Komstudy allowed me to become comfortable speaking Japanese in many different environments - with my friends, host family, and teachers. It was a great program for learning Japanese in ways that were fun and not entirely classroom-based. We had many excursions, including Disneyland and Google Japan, and participated in cultural activities like karate, tea ceremony, and calligraphy. I could not recommend this program enough to anyone studying Japanese.
Read more of Georgia-Rose's story here. 
Key Dates
Application Deadlines
Applications for this program have now closed.
Program Dates
Start: 22 November 2019
End: 15 December 2019
Fast Facts
Type: Study
Mode: Study abroad
Location: Tokyo, Japan
Credit: For-credit or not-for-credit
Cohort: Undergraduate and postgraduate*
---
*Postgraduates can attend the program as not-for-credit only
Global Experiences Information Sessions
Students are encouraged to register and attend an information session to receive more details on the short-term application process, eligibility criteria, funding etc.​