Intensive French in New Caledonia
Improve your understanding of French Pacific and Kanak cultures while increasing your language proficiency in Noumea. 
Throughout the program, you will stay in a homestay with a local family and participate in a variety of cultural activities throughout Noumea with CIS Australia. New Caledonia, a French overseas territory and archipelago, provides a perfect setting for French language study, combining the language and culture of France with a pristine Pacific island backdrop. 
Field of Study
More information regarding the program can be found in the Electronic Course Profile. 
Credit Equivalent 
2 UQ Units. Maximum of 2 UQ Units if the course is successfully completed (pending UQ faculty approval).
Visa Information
It is your responsibility to ensure you have the correct visa for the country where you will be studying. As the Global Experiences team is not a visa-issuing authority we cannot provide visa advice.
Pre-Departure Session:
Students participating in this program are required to attend the pre-departure session:
Eligibility and Application
All applicants must meet the UQ short-term experience eligibility criteria and the following additional program criteria:
This program is open to students who have obtained a minimum GPA of 5.0 in FREN2010 (or equivalent standard of French to be established by the School of Languages & Cultures). Students who have completed French beyond FREN3113 at UQ should contact the course coordinator.

If enough students at the B2-C1 level are available, we will also send advanced French students on the program.

Applicants must complete the Global Experiences online application and provide a completed personal statement to the online application. 
Cost
The tuition fee is approximately $4,299 AUD. Costs include accommodation, tuition, and excursions. 
Applicants may also be eligible for UQ-specific funding.
More information regarding the program fees can be found in the Electronic Course Profile. 
Accommodation 
Homestay accommodation is included in the program fee. More information regarding accommodation can be found in the Electronic Course Profile. 
Declan - 2019
I had always wanted to learn more about the countries in the south pacific region. However, I was mainly looking to improve my french language abilities which had stagnated since high school. This made the Intensive French in New Caledonia program the perfect choice, being one of Australia's closest neighbours. 
As with any overseas exchange, I was able to broaden my perspective of the world and gain a better insight into myself. However, I also learned about the rich history and culture of New Caledonia--one of Australia's closest neighbours.
Read more of Declan's story here. 
Catherine - 2019
I thought this program would be a fantastic opportunity for me to better my French. I think from this experience I've gained several things. Firstly, in terms of my language - I've gained a lot more confidence in my speaking and interacting in French.
Personally, this experience has helped me gain more confidence travelling by myself overseas plus I've made lots of friends along the way as well. 
My favourite memory is from when a small group of us caught a taxi boat out to ilot maitre for the afternoon. The water was amazing and there was next to no-one on the island. It was a really amazing afternoon. 
Speak and interact as much as you can in the language - there is so much opportunity to practice.
Sarah
Basically, before I left for this program, my competency levels in French language had dropped to the lowest they'd ever been. Originally, I'd decided to participate as I thought it'd be an amazing experience (which it was) but the stakes were raised when my grades dropped. Fundamentally, it was an "improve or fail next semester", thus I chose to participate despite not receiving OS-Help. I'm glad that I did because I believe that my language skills really improved while I was over there and I now am a little bit more confident for the semester ahead.
Read more of Sarah's story here. 
Hannah
This experience was really amazing! I was able to learn so much French so quickly. For me, one of the biggest things was being confident enough in my French to communicate with lots of different people. After only a short while there, I was able to use my French in a broad range of ways: from organizing pick up times and ordering food at restaurants to (eventually) discussing the culture and history of New-Caledonia with my host family. My host family was really amazing and always supportive, and it was a great experience becoming part of a family.
Read more of Hannah's story here. 
Eleanor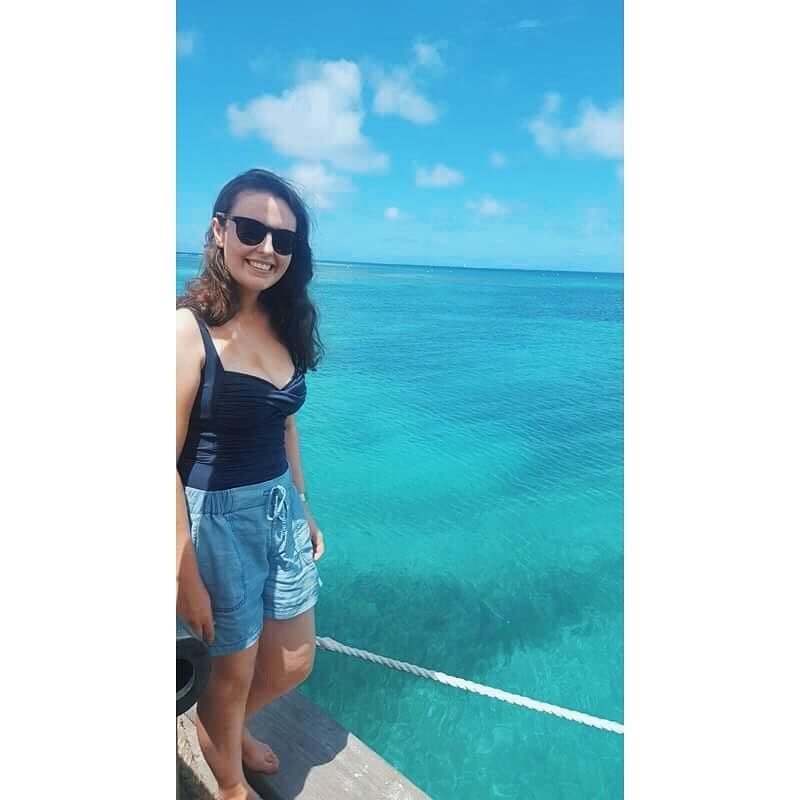 I had wanted to do an overseas trip for a while to improve my French, and decided that the New Caledonia course would be the perfect opportunity to do so! The opportunity to stay with a host family and be immersed in the language 24/7 was really appealing. By the end of the course, I had made amazing friends - some from other universities around Australia had grown close to my host family and was a million times more confident with my spoken French.
I would highly recommend this trip to anyone that studies French and wants to improve! New Caledonia is a beautiful, tropical country with a rich history - I wish I could relive the experience.
Read more of Eleanor's story here. 
Madeleine
I participated in an intensive three-week French course in Nouméa over the summer holidays in January 2018. The course consisted of 3.5 hours of class in the morning, from Monday to Friday, with free afternoons and weekends. Our teacher taught in French very different to anything I have ever experienced at high school or university in Australia, it was very casual, conversational with seemingly little structure. While the course was intensive, it was delivered in a very welcoming and enthusiastic way with masses of learning materials available to us.
First and foremost, my French improved dramatically. The majority of people in New Caledonia speak little or no English so it gave us ample opportunity to practice our French listening and speaking skills even when we weren't in class. Secondly, I gained some amazing friendships with the 8 students from UQ, the University of Sydney and the University of Newcastle that were in our class. We were all very like-minded, well-travelled students with masses in common so there was never a dull moment.
Read more of Madeleine's story here. 
Key Dates
Application Deadlines
Applications for this program have closed.
Program Dates
Start: 12 January 2020
End: 1 February 2020
Fast Facts
Type: Study
Mode: Study abroad
Location: Noumea, New Caledonia
Credit: For-credit or not-for-credit
Cohort: Undergraduate
OS-HELP Loan
If you participate in a short-term program you may also be eligible to submit an application for an OS-HELP loan if your program is for-credit and you are enrolled as a Commonwealth supported student. 
Application Deadlines
15 January for overseas study commencing March to August
15 March for overseas study commencing May to October
15 June for overseas study commencing August to January
15 September for overseas study commencing November to April
Refer to the funding page for more information on eligibility requirements and loan amounts. 
Global Experiences Information Sessions
Students are encouraged to register and attend an information session to receive more details on the short-term application process, eligibility criteria, funding etc.​