AIM Overseas Cross Cultural Psychology
The AIM Overseas Cross Cultural Psychology program will introduce you to the theoretical concepts, methodological issues, and applications of cross-cultural measurement in the field of Cross-Cultural Psychology.
Gain an in-depth understanding of human behaviour and mental processes, including both variability and invariance under diverse cultural conditions.
Additional field trips may include a tour in and around Graz and a guided tour of the Eggenberg Castle.
Fields of study
You can contact UQ Abroad for course syllabi or AIM Overseas for specific information on your program of interest.
Find more information regarding specific courses on the Aim Overseas website.
Credit Equivalent
8 ECTS = 2 UQ Units. Maximum of 2 UQ Units upon successful completion of 8 ECTS (pending UQ faculty approval).
Visa Information
It is your responsibility to ensure you have the correct visa for the country where you will be studying. As UQ Abroad is not a visa-issuing authority we cannot provide visa advice.
Contact the AIM Overseas for visa and immigration information.
Eligibility and application
All applicants must meet the UQ short-term experience eligibility criteria and any additional eligibility criteria set by AIM overseas.
AIM Overseas programs are highly competitive and fill up fast so be sure to get your application in as early as possible.
Costs
The program fee is approximately $5,075 AUD. More information regarding program fees can be found on the AIM Overseas website.
Applicants may also be eligible for UQ-specific funding. 
Accommodation
Accommodation is included in the program cost. For more information regarding accommodation, please see the AIM Overseas website.
Olivia - 2018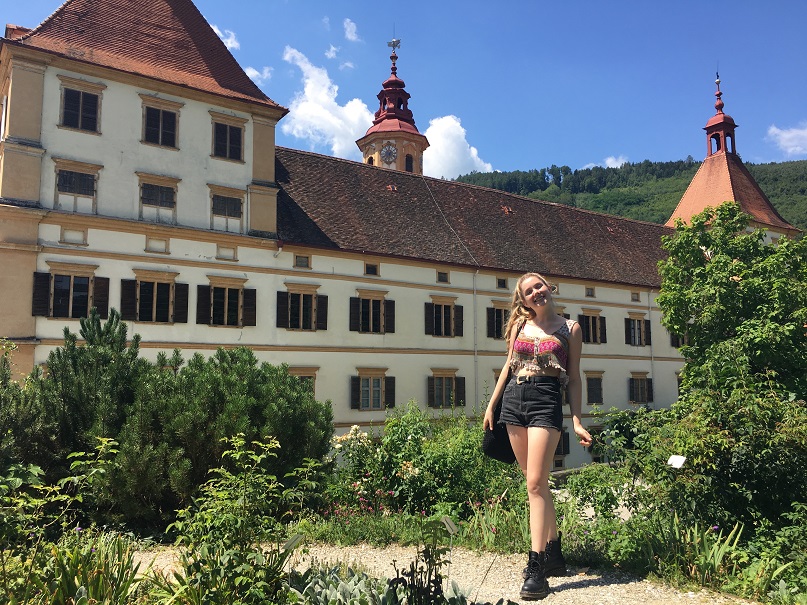 I had never been to Europe before and I am really interested in cross cultural psychology with regards to its implications in cross-cultural research. My favourite aspect of studying overseas was being immersed in the different culture.
Read more of Olivia's story here. 
Key Dates
Application Deadlines
UQ Abroad: 10 March 2019
Host: 01 April 2019
Program Dates
Start: 29 June 2019
End: 20 July 2019
Fast Facts
Type: Study
Mode: Study abroad
Location: Graz, Austria
Credit: For-credit or not-for-credit
Cohort: Undergraduate and postgraduate*
---
*Postgraduates can attend the program as not-for-credit only
UQ Abroad Information Sessions
Students are encouraged to register and attend an information session to receive more details on the short-term application process, eligibility criteria, funding etc.